From family yoga to parents' night out to family camp, the Y offers programs that brings the family together. All of these family programs are free for Y members, so bring the kids and enjoy time together at the Y!
---
Family Fitness Classes
Family Capoeira
Ages 6-12
This fun Brazilian Martial Arts class combines acrobatic and dance movements that the whole family can enjoy.
---
Family Gym Time
Parents and children can be active together! During this time, families can use the gym to play sports and games together in a fun, safe environment. Parents must remain in the gym with children under 11 years of age.
---
Family Swim
Enjoy some quality time with your children in the water where you can play games and practice swimming skills. A parent or guardian must be in the pool with the children at all times.
---
Family Keyboard Classes
Ages 6+
Our keyboard classes are a cultivating environment for anyone who is interested in learning music. Our classes focus on:
Singing, listening, reading, writing music and playing instrument
Understanding general music theory and the basic principle of use of the instrument
Musical elements: rhythm, melody, harmony, articulation, dynamics, and style
Chords/Scales for composition and performance in multiple genre of music
Completion of song chosen by learner for annual recital at YMCA
Classes are one hour in length and is individualized. Double sessions can be booked. Keyboards are available for student use. Students will receive materials that will be needed for lessons, as well as recommendations on books from the instructor based on each student's level. There is a 24 hour cancelation in order not to forfeit the class. Recitals are held in June.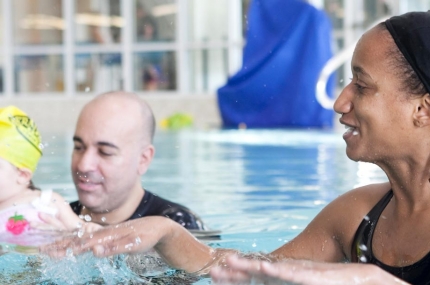 Parent & Child Swim Classes
Accompanied by a parent, infants and toddlers learn to be comfortable in the water and develop swim readiness. Parents learn about water safety and drowning prevention.