Thank you to our Y champions!
The YMCA of Greater New York is deeply grateful to our donors who have gone above and beyond to support New Yorkers in need, allowing the Y to expand our emergency relief, virtual programming and support of our most vulnerable and under-resourced populations in the wake of the pandemic.
Below is a full list of the YMCA's generous supporters as of June 30, 2020.
Visionary's Circle, $100,000 and Above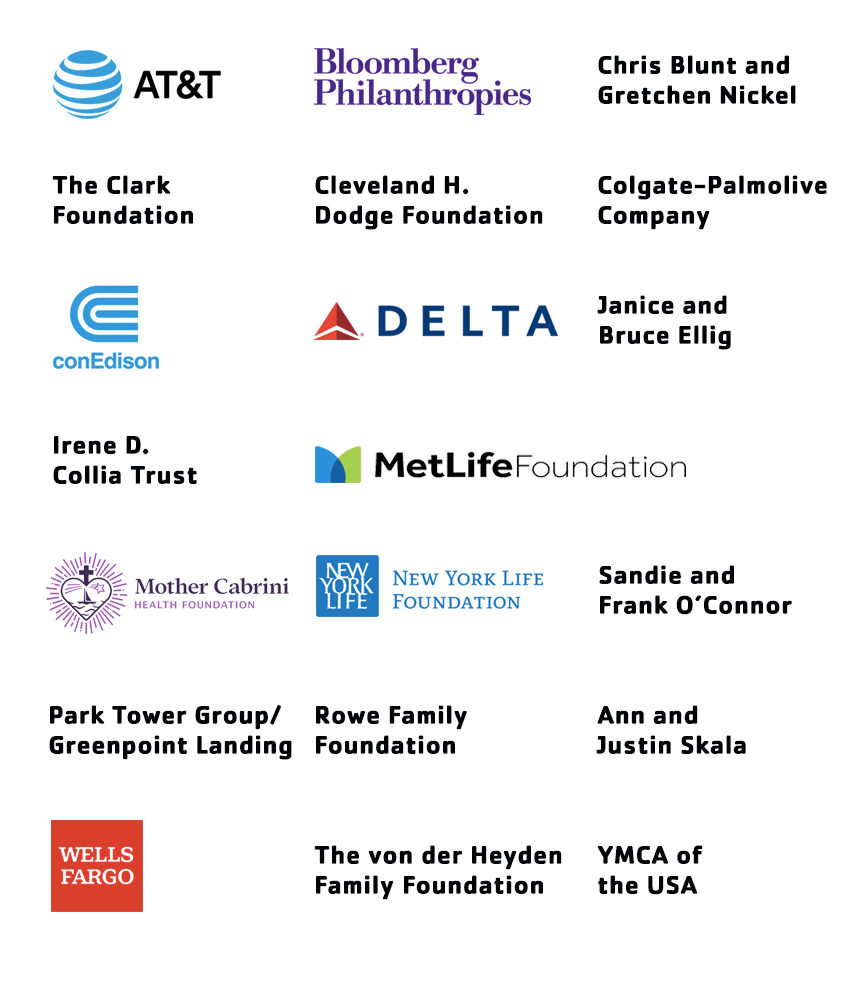 President's Circle, $25,000-$99,999
The Bank of America Charitable Foundation
BNY Mellon
Capital One
Citi
Genting New York LLC
IBM
JP Morgan Chase & Co.
L+M Development Partners, Inc.
Lisa Beth Gerstman Foundation
National Grid Foundation
New York Community Trust
Northfield Bank Foundation
On Point System & Management
Nick Robinson
Ian Anthony Rosenthal
Sequoia Foundation
The Pinkerton Foundation
Gabriel Vasquez
Voya Foundation
Champion's Circle, $10,000-$24,999
Pedram Afshar 
Susan Alexander 
Atlantic Philanthropies
Bristol-Myers Squibb Company
Capital Group Companies
Clearview Festival Productions
James and Linda Coyle 
Thomas J. Dillman
Ernst & Young LLP
Anthony Escobar 
ExxonMobil Corporation
First Reformed Church of Jamaica
Sharon Greenberger 
Michael and Susana Guarino
JLL Hotels & Hospitality Group
JR Van Brunt Fund
Steven Kimble 
Kum Gang, Inc.
Jeffrey and Evelyn Levy
Robert Lieber 
Lyft
Sal and Laura Maglietta
Linda Modico 
Josue Munoz 
Ong Family Foundation
Maggie Parent 
People's United Community Foundation
Angelica Prescod
Red Crane Foundation
Robin Hood Foundation
Ruchi New York LLC
Elizabeth Rutledge 
Safety Facility Services
South Pole Foundation
The Bernard & Muriel Lauren Foundation
The Childrens Hope Chest
The H. W. Wilson Foundation
Two Trees KG LLC
U.S. Bank Foundation
United Nations Federal Credit Union
Philippe B. and Yael M. Visser
Raymond H. Yu 
Hero's Circle, $5,000-$9,999
Able Cleaning Services of New York
Mona Aossey
Gina Argento
Elizabeth Bergin
Jessica Bindman
David Blair
Andrew Bose
Broadway Stages
Kathryn Bryan
Howard Caretto
Central Amusement International
Joseph Chan
Margaret Chan
Alice Chen
Consigli Construction NY, LLC
David & Alan Greene Family Foundation
Richard and Karen Delaney
Demasco, Sena & Jahelka, LLP
Judith Dorsey
Danielle Engelman
Eye Productions Inc.
La-Vena Francis
Fred R. Smith Foundation
Greater Jamaica Development Corporation
Kelly Hayes
Blanca Hirani
Robert Hughes
Kelley Drye & Warren LLP
Danielle Krause
Logan MacLennan
Marguerite Mangum
Donald Minerva
Morgan Stanley
Guillaume Morin
Margaret Mortimer
New York Mets Foundation
Christopher O'Connor
Emily Parapanov
Carter Pearson
Errol Pierre
Kim Pompey
Mary Jane Raymond
Gretchen and James Rubin
Shannon Stotts
TD Charitable Foundation
The Brodsky Organization
The Simons Foundation
Melvin Tse
Simon Walsh
William E. Simon Foundation
Winston-Salem Foundation
Nelson Yip
Leader's Circle, $2,500-$4,999
Dr. Matthew Ackert
Alliance for Coney Island
Rajiv Basu
Brandywine Global Investment
Leonard Churnetski
Columbia University
Compass Group
Orville Dale
Tarara Deane-Krantz and Darren Wang
Deloitte
James Dopman
Lynn Douglass
East River Medical Imaging
Alexa Eccles
Fordham University
Robert Friedlander
Joseph Gahtan
Kimberly Glassman
Teneka Hardy
Amy Ho
Investors Foundation
Jaros, Baum & Bolles, Inc.
Dordy Jourdain
Howard Karloff
Charles A. King and Cathleen Woods-King
Sharon Levy
Heather Livernois
Barbara Lowe
Rosalie White and Rodney C. Marr
John Merlino Jr., Esq.
Mukhopadhyay Foundation
Cynthia Murray
National Grid
Kathleen O'Donovan
Blondel Pinnock
Premier Partition & Drywall of N.Y.
Dr. Wayne Riley
Rachael Rinaldo
Rocker Family Foundation
Rosenberg & Estis PC
Schnader Harrison Segal & Lewis
Bonnie Schwerin
Ami Shah, M.D.
TD Charitable Foundation
The Abyssinian Baptist Church
The Deane Family Foundation, Inc.
The Levitt Foundation
Margaret Usher
Mary and Jim Vines
Patricia Williams
Founder's Circle, $1,000-$2,499
A+ Changes Inc.
Able Cleaning Services New York
AECOM
Charles Ainsworth
Blair Akers
Allied Universal Services
Roseanne Antonucci
Apple-Metro, Inc
Arthur B. Monroe Family Fund
Assoc. for a Better New York
Sonia Atherly
Francois Attal
Sebastien Augustin
Aviva and Rich Fund
Bank of America Matching Gifts
Lauren Barr
Ryan Baxter
Joseph Bell
Beplat Hardware
Monica Bermiss
Richard Bianchi
Robert Bishop
Alexandra Blair
Jacquelina Bravo
Michelle Brindley
Elaine Brodsky
Sharlene Brown
Yvonne Bruno
Nadia Cadogan
Camara Helps
Capalino+Company
Frankie Carlucci
Justin Carroll
John Catuogno
Charity on Top Foundation, Inc.
Kendall Charter
Wellington Chen
Betty Cheng
Kai Cheng
Claremont Peconic LLC
Delroy Clarke
CN Plumbing
Brendan Coburn
Josh Cohen
Kathryn Colglazier
Shelby Conn
Andrew Curtis
Jamel Davis
Patricia Davis
Peter DeLucia Jr.
Thomas Dennard Jr.
Deutsche Bank Americas Foundation
Marilyn and Cedric Dew
Stephen E. Dietz and Martha Bakos Dietz
Nancy Dobi
Tiffany Dunbar
Karis Durmer
Empire BlueCross BlueShield
Peter Falcone
Elle and Kara Fassrainer
Fernando the Cat Foundation
Julian Flear
Rana Foroohar
Ann Fosteris
Emilie Franske
Geraldine Gallashaw
Daniel Garber
Michael Garcia
Lisa Garcia
Meishay Gattis
Theresa Geraci
Gertrude B. & Mortimer May Foundation
Michael Gervasi
Thad Gifford-Smith
GillWright Group
Meghan Gough
Victoria Guisinger
Dr. Beverley Guntley-Mackey
James Hamilton
Ivan Harper
Melissa Harris
Margaret Harrypaulsingh
Kenny and Anita Harvey
Amr Hassan
Helbling & Associates, Inc.
Zachariah Hennessey
Caswell Holloway
Felix Hor
IDB Bank
Emma Isles
Balasubramanya and Bharathi Iyer
Latoya Jackson
James Jaeger
Marjorie Jean-Jacques
Diane and Elizabeth Jean-Jacques
Deniece Jones
JPMorgan Chase Foundation
Kelly Kang
Elizabeth Kay
Michael Keller
Robert Knakal
Donald Korsun
David Lagasse
Glenn Lau-Kee
Dr. Michael Lavyne
Tiffany Lawson
Simone LeGall
Christopher Lenard
Scott Levinson
Kenneth Lewis
Lina Electric Corporation
Guno Lisse
Marilyn Longman
Mitchell Lyons
Rae Marino
Yaeh Evelyn Marshall
Janet Martinez
Robert Massoni
Clara McDonald
James McKeever
Jonathan Meyer
Rose Milord
Arthur Mindheim
Thomas Miskel
Shakila Monk
Erin Mooney
Samuel Moore
Shirley Ng
NYU Langone Health
NYU School of Medicine
Mary O'Donoghue
Hon. Eugene Oliver Jr.
Heidi Ortiz
Sang Pak
Sarah Paley
Theresa Park
Alisa Payne
Kathryn Payne
Petro Home Services
Maria Petrone
Play Soccer 2 Give Inc.
Elaine Pommells
Christina Pullo
Thomas Quinlan III
Jazzmine Randolph
Orlando Rivera
Leslie Roberts
Marcel Robin
Gareth Robinson
Antonio Rodriguez
Fiordaliza Rodriguez
Jose Rodriguez, II
Sal Romano
Fran Rominger
Madge Rosenberg
Row New York Inc.
Cleveland Rueckert
William and Fleur Rueckert
Gabriel Sakellaridis
Owen Salmon
Lisa Sanguiliano
Donald Sarcone
Frank Scarangello
Daniel Schindler and Gay Young
Geri Sciortino
Anderson Seales
John Semerad
Susan Sharer
Marjorie Shea
Lynette Shelborne-Barfield
Ronald Smith
Adrienne and Tyson Smith
Jean Margaret Smith Card
Sabrina Snyder
Louis Solomon
Mahadai Somaroo
Kimberly Soule
Sound Refrigeration & Air Conditioning
Nina Sporn
Joshua Stabenfeldt
State Farm Companies Foundation
Joyce Strype
Jessenia Taft-Urgiles
Taub's Floor Covering of Staten
Sheneka Taylor-Davis
Sharon Tepper
Tatiana Terzuoli
Connie Thanasoulis-Cerrachio
Rahnold Thomas
David Thomas
Maryn Tillman
Elizabeth Toledo-Cruz
Pierre Tonachel
Loretta Trapani
Maritza Tse
U.S. Charitable Gift Trust
Sandra Ung
Emily Uniman
Unitec Elevator Co.
Bhavin Vakani
Kilvio Vargas
Joseph Verhey
A.B. Vivera
Bernard and Paula Warren
William Washington
WB Wood
David Weisman
Dawn Wheatley
James Whelan
David White
Linda Williams
Willis Towers Watson
Jason Wolfe
Norman Wong
Pearl Wong
Ling Xu
Chun Yee Yip
YMCA Seamen's House NYC
Brianna Young, RN
Zetlin & De Chiara LLP
Friends of the Y, $100- $999
A & L Cesspool Service Corp.
A.D. Winston Service, Inc.
Jawara Abade 
Adam Aboshihata 
Seth Abraham 
David Abramson 
Guillermo Abreu 
Elisa Abreu 
David Ackman 
Stephanie Adams 
Leah Adams 
Shondelle Adams 
Talma Addes 
ADK Water Solutions
E Lola Aforo 
Ziad Afra 
Wendy Aibel-Weiss 
Samantha Aime 
Sadia Aiwinnilomo 
Richard Akers 
Olayemi Akindude 
Anna Akulova 
John Alden Jr.
Olga Alfred 
Bhanmattie Algu 
Umawattie Algu 
Gwendolyn Alker 
All H.V.A.C. Service Co, Inc.
Kathleen Allard 
Floyd Allen 
Dana Allen 
Harriet Allentuch 
Alliance Berstein
Sandy Almeyda 
Fatima Alonzo 
Kevin Alter 
Janalry Amaro 
Americare
Randall Amey 
James Anderson 
Angela Andrade 
Daniel Angielczyk 
Judy Annang 
Robert Annicharico 
Jannette Anton 
Oksana Antonyuk 
Apple Bank
Joel Aragona 
Christophe Ardellier 
Ottavio and Maria Arena 
LaShanna Arias 
Racquel Arjun 
Arkay Decorating
Aspro Plumbing Inc.
Assured Environment
Jean Eddie Auguste 
Avellino & Watson
Emily Aversa 
Azar Decorating
Natalia Baechko 
Anna Bagliore 
Tyrina Bailey 
Chrissy Baker 
Frederick Baker Jr.
Lisa Balfe 
Karen Banks 
John Baray 
Gerald Karikari and Barbara Smith 
Michele Barber-Perry 
Jeremy Barbier 
Denise Barlow 
Khadijah Barnett 
Elizabeth Barnett 
Terrence Barnwell 
Hamidu and Isatu Barrie 
Blaise Barron 
Sandra Barrow 
Ann and Jim Barry 
Dorothy Barry 
Dorothy Barth 
Richard Barth 
Malisa Basic 
Irving Bassett 
Jennifer Bayer 
Brandon Bazil 
Slawomir Bazylczyk 
BCCAT Family Foundation
BebuNet
Mike Beck 
George Beckwith 
Leslie Bedford 
Juliet Beecher 
Fatema Begum 
David Bellel 
Luis Benitez 
Doris Benitez 
Stella Bennardello 
John Benson 
Kathleen Berger 
Penelope Berliner 
Katherine Bermiss 
Nancy Bernet 
Stephanie Bertrand 
Veta Bills 
Tracy Bilotto 
Jessica Binder 
Judith Bischoff 
Kenneth Black 
Donald Blair 
Lisa Blake 
Lorna Blancaflor 
Rebecca Block 
Connie Blomquist 
Howard Blunt 
Antonio Bolarin 
Jessica Boller 
Lydia Bonilla 
Ralane Bonn 
Holly Bonner 
Lillian Bonner 
Debra Bossert 
Felicia Bostwick 
Roshauna Bostwick 
Austine Botu 
Daniel Boucher 
Vanessa Boulous 
Donesha Bowden 
Katherine Bowen 
Abigail Boyd 
Conrad Bradford 
Mary Ann Brancato 
Taiwan Branch 
Donna Bray 
Shana Bredwood 
Denise Bricker 
Dennis Britt 
Ameera Brooks 
Trebora Brothers 
Keshia Brown 
Susan Brown 
Tasia Brown 
Tiffany Brown 
Russell J Brownback 
Latoya Browne 
Kathryn Brucas 
Talitha Bruney 
Scarlett (Penny) Bruso 
Quintin Bryant 
Elizabeth Bryden 
Spark Buczek 
Stephanie Burgess 
Azza Bushra 
C.I.S.I.S.C
Kristine Caballero 
Michelle Caban 
Diane Cabrera 
Luis Cadogan 
Ursula Caiola 
Agustina Cajas 
Michael Calasanz 
California Pizza Kitchen
Maritza Camargo 
Walter Campbell 
Janice Campbell 
Mitzi Campbell 
Robert Campbell 
CampMinder, LLC
Evelyn Candelario 
Capital One Services, LLC
Lauren Caporilli 
Philip Caputo 
Debra Carbone 
Frank Carbone 
Jasmin Cardona 
Janine Carhart 
Arthur Carkner 
Maria Carollo 
Elvera Carrera 
Ashley Carrington 
Linda Carroll 
Rosalind Carter 
Mary Ann Cartwright 
Sandra Caruso 
Robert Castro 
Michael Catalan 
Carol Cate 
Glenda Caudill 
Fie Cavaioli 
Kimberlee Cavarretta 
Grace Cayetano 
Cordia Cedeno 
Anthony Cekay 
Amador Centeno 
Gerard Chamorin 
Nancy Chan 
Jeffrey Chan 
Virginia Chan 
Florence Chan 
Hyacinth Charles 
Bobby Charles 
Anika Chaudhry 
Michael Chen 
Jie Ling Chen 
Jayden Chen
Katherine Chen
Zixu Chen 
Connie Cheng 
Cecilia Cheng 
Alan Cheng 
Michael Chi 
Jia Yu Chi Yung 
Chinsammy Chinapen 
Latiema Chisholm 
Kyunghee Choi 
Carlo Chung 
John Cicerello 
Emilia Cierrillo 
Janice Cimberg Fried 
Frances Clark 
Tige Clarke 
Modica Clarke 
John Clemente 
Theodate Coates 
Lee Ellen Coffey 
Josh Cohen 
Harris Cohen 
Harvey Colchamiro 
Freddie Cole 
Toni Coley 
Enrique Colon 
Jorge Colon 
Commercial Clearwater Company
Compass Group USA Division
Jeffrey Conklin 
Nicole Connell-Clarke 
Mary Constance 
Crystine Cooper 
Velma Coppin 
Frederick Corden III
Nisan Cornibert 
Sharon Corrente 
Stephen Cowles 
Yolanda Cox 
Gretchen Craig 
Jami Crane 
Christie Craver 
Ivy Cruz 
Maritza Cruz 
Carlotta Cuenca 
Linda Culotta 
Henry Cummins 
Scott Curry and Lilik Gondopriono 
Paul Curtin 
Carol Ann Curtis 
Andrew Cusano 
Jacqueline D'Ambrosi 
Suzanne Dance 
Barbara Danish 
Loretta Darby 
Seyward Darby 
Rosanne D'Arrigo 
Alexa Dattner 
Barbara David 
Memorial Fund for David M. Mahood 
Suzanne Davidson 
Giselle Davis 
Taquasia Davis 
Samuel Davis 
Isabel Davis 
Jeffrey Davis 
Juan De Los Santos 
Susan DeAngelis 
DECAT Driving School
Julia Defeo 
Richard DeJesus 
Robert DeJesus 
David Del Pozo 
Dr. Kathleen Delaney 
Isabelle Delatour 
Ralph Delice 
Philip DeLise 
Frances DellaCava 
Sandra Deming 
Anthony Demma 
Bruce Dennis 
Kenrick Derrick Jr.
Andre Desir 
Nicholas Despiau 
Dianne Di Peri 
Ibrahim Diakite 
Fermin Diaz 
Diana Diaz-Torres 
Jaime and Nancy Dickerson 
Lethicia Dieudonne 
Tyra Dillard 
Brandon Dingle 
Phil DiTomasso 
Amanda Dobbs 
Donna Dolan 
Jim Dolle 
Catherine Domino 
Gabrielle Domond 
Ye Feng Dong 
Elaine Donlin 
Shaun Donovan 
Mercedes Doretti 
Kiamer Dorvil 
Pearl Dotson 
Dwayne Douglas 
Parker and Elyse Douglas 
Lamont Drew 
Michele Drysdale 
Catherine Duckett 
Kevin Duffy 
Caitlin Duffy 
Martine Dufresne 
Etsuko Dunbar 
Marjorie Durrant 
Esther Dyson 
Alicia Eames 
Steven Eaton 
Helene Ebenstein 
Nkeonyelu Ebo 
Helen Eddy 
Patsy Edwards 
Walter Egielski 
A. Charlotte Ehrman 
Jeffrey Elder 
Danielle Renae Elleman 
Bunny Ellerin 
Lakasha Elliott 
Oswald Elliott 
Meghan and Mark Ellis 
Enaiat Elsaaie 
R. Anthony Emmanuel 
Sandra Erickson 
Marichu Escobar 
Brittany Espinoza 
Alexandra Estrella 
Zoraida Estremera 
Bryce Eve 
Every Org
Facebook
Mickey Falcones 
Douglas Falcones 
Jeffrey Falk 
Jake Falk 
Deirdre Fanizzi 
Robin Farr 
Chris Farrell 
Nyida Farrell 
Andrew Lin Feng 
Joyce Fenteng 
Ann Ferguson 
Mae Ferguson 
James Fermin 
Gerson Fernandez 
Nancy Ferreiras 
Filippa Ferriolo 
Annette Fesi 
Wendy Fichthorn 
Christopher Figueroa 
Jacqueline Filis 
Shea Fink 
Shawn Finlinson 
Jennifer Fischkoff 
Betsy Fishbone 
Jack Fitzpatrick, PhD
Sylvie Fitzpatrick 
William Fitzpatrick 
Gary Fizer III 
Joseph Flahaven 
Byron Flores 
Marsha Flowers 
Flushing Lighting Fixture
Joseph Focarino 
Stephen Forcione 
Jason Ford 
Romona Forde 
Susan Forlenza 
Patrick Forquer 
Christine Forster 
Aldo Fossella 
Jordan Foster 
Christopher Foster 
Darnel Foster 
Leanne Fraccio 
Jane Francis 
Avis Francis 
Laurel Franklin 
Loretta Frazer 
Branden Frazier 
Khadijah Frederick 
Lily Freedman 
Kerry Freeman 
Meryl Freeman 
Patrick Friel 
Michael Frumin 
Fred Fu 
Jose Fuentes 
Katherine Fuller 
William Fung 
Tyson Furr 
Jane Furth 
Felicia Fyffe 
Juan Galarza 
Christopher Galasso 
Alexis Galfas 
Lorraine Galloway and Laura Graves 
Miguel Garcia 
Amanda Garcia 
Tanya Garcia 
Selene Garcia 
Angery Garcia 
Martha Garvey 
Maxine Gaskin 
Cesar Gaviria 
Tom Gebbie 
Nathanael Georges 
Jane Gerard 
Judith Gerardi 
Philora Gharib 
Justina Gibbs 
Kurt Giesler 
Sonia Gill 
Brisejda Gjoka 
Dorothy Glass 
Norma Glassman 
Gleason Paint
Alicia Glen 
Loretta Glubiak 
Peter Glusker 
Henry Goh 
J H Gold 
Donald Goldman 
Hazel Goldstein 
Harley Goldstrom 
Yuan Gong 
Bryan Gonterman 
Joan Goodman 
Good-Will Mechanical Corp.
Nadine Goody 
Google
Grace Gordon 
Amanda Gorham 
Miriam Sy Gorski 
Anthony Goss 
Gabriel Gossman-Ruiz 
Holter Graham 
Julio Granado 
Ruth Graves 
Christa Gray 
David Greaves 
Estelle Green 
Rodney Green 
Green Mountain Energy Company
Shevonne Greene 
Paul JR Greene 
Matthew Greenfield 
Sumaya Grisales-Masis 
Michael Groce 
Meghan Groome 
Gross Kobrick Corp.
Anthony Groves 
Adam Gruberger 
Ward Gruppo 
James Gruppo 
Matthew Gruppo 
Peter Gruppo 
FengPing (Judy) Guan 
Ivy Guerra 
Laura Guerriero 
Sharon Guinta 
Gary Gulman 
James Gundell 
Maya Gunji 
Yoni Gutierrez 
Gutman, Mintz, Baker and Sonnenfel
Ruth Gyuse 
John Haberman 
Patrick Hainault 
Half Pint on Thompson
Anthony Hall 
Thomas Hallinan 
John Halpin 
Donna Halverstadt 
Greg Hamilton 
Roger Hamm 
Paul Hanley 
J. Lennox Hannan 
Patricia Hannan 
Paul Happel 
George Harenberg 
Dharmen Hariprashad 
Renee Harley-Mosley 
Joanne Harling 
Niroopa Harpaul 
Rajesh Harriprasad 
Deja Harris 
Kyle Harris 
Carolyn Harrison 
Altaf Hasain 
Michael Haskins 
Ira Haspel 
Carol Hayes 
Anne Malyndia Hayes 
Katherine Hayes 
Niyanni Haynes 
Isaiah Haynie 
Nancy Heilmann 
Sara Helton 
Diedryl Henderson 
Enrique, Jenelle, and Eren Henriquez 
Hector Henriquez 
Kerry Herman 
Pablo Hernandez 
Maximo Hernandez 
Emely Hernandez 
Roberto Hernandez 
Frank Hernandez 
Ashley Herrera 
Thomas Hicks 
Neal Higgins 
Jessica Hildreth 
Rasheida Hill 
John Hilton Jr.
Kamilo Hincapie 
Walter Ho 
Raisa Ho 
Shih-Yin Ho 
Tanya Hobson-Williams 
Lynne Hodgson 
Ilse Hoffman 
Ronald Hoina 
Stephanie Hoina 
Tashemia Hollis 
Mary Hood 
Liza Horner 
Christie Howard 
Marie Howard 
Kenneth Howe 
Ken Hua 
Hayden Huang 
Nicole Hudson 
Gina Hughes 
Donnalea Hulett 
Geordan Hull 
Stephen Hunter 
Bonnie Hurst 
Myrna Hurwitz 
Winifred and Peter Hussey 
Bryant Ibarra 
ILG Mechanical Service
Eric Iliyev 
Imperial Bag and Paper Co., LLC
Francisca Infante 
Investors Bank
Waltraud Ireland 
Gabrielle Isom 
Jack and Jill of America, Inc.
Carmen Jack-Phillips 
Randolph Jackson 
Bernice Jackson-Bentley 
Jennifer Jacobs 
Pamela Jacobson 
Chan Jagruo-Balram 
Lauren Jankowski 
Tanya Diaz-Goldsmith and Jared Goldsmith 
Krzysztof Jaworski 
Stephan Jean 
Natasha Jean 
Deborah Jean-Baptiste 
Beverly Jemmott 
Ameera and Norma Jenkins 
Maryam Jhangir 
Emely Jimenez 
Xi Shun Jin 
Robert Johnson 
Calena Johnson 
Alan Johnson 
Malik Johnson 
Brian Johnson 
Ena Jonas 
Abigail Jonathan 
Donte Jones 
King Jones 
Anthony Jones 
Emmaline Jones 
Diane Jones 
Vanessa Jones 
Francis Jordan 
Edith Jordan 
Edward Joyce 
Vima Joyeux 
Gernela Julien 
Tishab Kamall 
Diane Kane 
Sunil Kansara 
Kappa Beta Sigma Chapter
Robert Katz 
Jeffrey Kauffman 
Arshdeep Kaur 
Michael Kawochka 
Evelyn Kay 
Eileen Kearns 
Janice Keller 
Morgen Kelley 
Kevin Kelley 
Janice Kelly 
Jessica Kelly-Brown 
Marla Kessler-Groom 
Nabila Khan 
Susan Khan 
Nanda Khan 
Munish Khaneja 
Taniki Khwalsingh 
Nadia Kiass 
Ronald Kiley 
Susan Kille 
Gwen Kilvert 
Jee Mee Kim 
Melissa Kindle 
Kenny and Nora King 
Robert Kinkel, Jr.
Aynsley Kirshenbaum 
Tom Knapp 
James Kobielus 
Stephen Kosmicki 
Christina Koukkos 
George Koundourakis 
Nicole Kourbage-Wilson 
Olga Kovalkova 
Valerie Krause 
Barbara Krause 
Peter Kreider 
Agnieszka Krzyszkowski 
Christopher Kui 
Tony Kung 
Joan Kuo 
Carin Kuoni 
Hildy Kuryk 
Kathleen Kurzawa 
Mathew Kutches 
Rakuko Kuwayama 
Henry Kuykendall 
L.D.I.
Martha LaBare 
Kasey Ladner 
Deborah Lahav 
Steve Kuan Yu Lai 
Karen Lall 
Michelle Lam 
Mark Lanaghan 
Heather Lananna 
Helen Larino 
Michael LaSalle 
Wm Lavery 
Jasmine Laws 
Thien Le 
Linda Leahy 
William Lee, M.D.
William Lee 
Philip Lee 
Wendy Lee 
John Leff, M.D.
Ivorie Legree 
Susan Leicher 
Pete Leon 
Luis Leon 
Edwin Deane Leonard 
Leonard Powers Inc.
Mike Lesser 
Valerie Leuchs 
Gerald Levine 
Benjamin Levisohn 
Genera Levy-Mcknight 
David Lewis 
Kenny Lewis 
Johnny Li 
Phu Li 
Patricia Li 
Martin Librett 
Sabeena Liconte 
Lifetouch National School Studio
Lilker Associates
Edward Lin 
Brad Linard 
Laura Lingenfelter 
Eve Litwack 
Priscilla Liu 
Alonza Lloyd 
Janet LoCurto 
Dana Lodge 
Mary Long 
Richard Longinetti 
Kristen Lonnborg 
Issamar Lopez 
Josue Lopez 
Mary Lopez 
Roberto Lopez 
Michael Lopin 
Bryon Lorenz 
Lisa Losh-DiPaola 
Lauren Lowe 
Erica Lowry 
Narcisa Loza 
Haolin Lu 
Anna Lu 
Ingrid Luchsinger 
Robin Lund 
Keyvan Lunden 
Sarah Lux-Lee 
Erica Lyon 
Luz Macarthur 
Koichi Machino 
Vincent Mack 
Consuelo Mack 
Karyn Madden 
Neil Madsen 
Vinod Maharaj 
Laura Mahon 
Andrea Mahoney 
Timmy Mak 
Jamie Manhertz 
Jenny Mann 
Florence Mannion 
Kevin Marin 
Theresa Marmo 
Richard Marrano 
Thomas Marsh 
Judy Marshall 
Michael and Ellen Martin 
Jennifer Martin 
Justin Martinez 
Antoinette Martinez 
Emeli Martinez 
Christopher Martinez 
Begona Martinez de Lecea 
Gary Marton 
Mercedes Marty 
Lourdes Marzan 
Lawrence Mass 
Janet Mata 
Jose Mata 
Areial Mathis 
Jim Mattson 
Braden Mayer 
Tracey Mayfield 
Richard Maytubby 
Angel Mazara 
Deborah Mazyck 
Rosemarie Mazza 
Jeanne Mc Clintock 
Maisie McAdoo and David Neustadt 
Marcus McAlpine 
Thomas McAnaney 
Alford McBean 
Grace McBride 
Andrew McBrien 
Laura McCarron 
Brian McCarthy 
Ian McDonald 
Audrey McFadden 
William McInerney 
Andrew McInerney 
Cheryl McKereghan 
JoAnne McKernan 
Patricia McLaughlin 
Martin McNally 
Kristin McNamara 
Mary McRoberts 
Rev. Joseph McShane, S.J.
Thomas McTernan 
Deborah Meer 
Susanne Mei 
Juan Mejia 
Teresa Mele 
Kenneth Melendez 
Alison Melick 
Francesco Meloni 
Robert Ment 
Minelly Mercado-Walter 
Gloria Messam 
Donna Messina 
Metropolitan Swimming Inc.
Joan Mettler 
Risa Mickenberg 
Tinisha Middleton 
Pawel Mieszkowicz 
Millburn Short Hills Democratic
Josh Miller 
Benjamin Miller 
Tung-Fen Lin Miller 
Joel Minsky 
Rebecca Mir 
Aracelis Miranda 
Mary Kate Missett 
Alisa Mitchell 
Alison Mitchell 
MKP USA-Metro NY
Wan Yee Mok 
Francesca Molanphy 
Michael Molinaro 
Susan Monardo 
Anthony Monforte 
Caitlin Moonesar 
Phillip Moore 
Chrisanna Moore 
Raymond Moore 
Vernon Moore 
Zuly Morales 
Rev. Georgiette Morgan-Thomas 
Jonathan Moritz 
Judith Moroney 
Jelani Morris 
Lidia Morris 
Whitney Morris 
Drew Morrison 
Cuthbert Morrissey 
Mount Sinai Hospital of Queens
Lily Moy 
Colin Muir 
Thomas Mullarkey 
Shane Murphy 
Wilfrid Murray 
Elizabeth Murray 
Dr. Michael Myers 
Petal Myrie 
Jeremy Myrthil 
Victoria Myrthil 
Michael Nanna 
Diane Napolitano 
NASDAQ
Robin Nathaniel 
Stefany Navarro 
Kassahun Negash 
Leona Negrimovsky 
Michael Neill 
Vernetta Nelson 
Heather Nesle 
Andrea Newborn 
Ted and Ellen Newman 
Yanique Newman 
Thea Newton 
Nicholas Ng 
Katherine Nickerson 
Andrea Nicolas 
Marcella Nicolosi 
Anais Nieves 
Stephen Nislick 
Danielle Noak 
Catherine Nolan 
Catherine Nolan 
Tammy Nolasco 
Nouveau Elevator Industries Inc.
Patricia O'Connor 
John O'Hara 
Julie Okonowitz 
Noelle Okoth 
David Olivo 
William Ortiz 
Margaret Oshea 
Alona Osmanova 
Outsource Consultants, Inc.
Alissa Owens 
Barbara Pace 
Lisa Pacheco 
Henry Pacht 
Hope Padilla 
Donna Padovano 
Ronald Pagano 
Sovanna Pang 
Aglaia Papadopoulos 
Jessica Pardo 
Kyle Pareja 
Philip Paris 
Park Avenue Building and Roofing Supplies
Craig Parker 
Brittney Parks 
Martha Parmalee 
Kimberly Parris 
Edward Parson 
Madhur Patel 
Diego Patrimonio 
Monique Patterson 
Martena Pattynama 
Rosa Paucar 
Odalys Paulino 
Jessica Pavone 
Tyeesha Pearson 
Dariana Pena 
Shiying Peng 
Aviva Peress 
John Perez 
Luis Perez 
Cristina Perez 
Monica Perez 
Barbara Perris 
Isaac Perry 
Natasha Persaud 
Lana Petry 
Lynn Petry 
Michael Phillip 
Laura Picone 
Christopher Piechocki 
Eric Pillmore 
Vincenza Pimpinella 
Luz Pineda 
Pinochle Club
Nicole Pipitone 
Piranhas Swim Team
Tony Plata 
Charles Platt 
Jose Plaza 
PN Fire & Burglar Alarm Co.
Jeanine Poggioli 
Polsky Sports and Entertainment
J. Marcus Poon 
Samantha Poorun 
Barbara Poris 
Maria Porras 
Ruben Porras 
Timothy Porter, Esq.
Patricia Potter 
Gerald Press 
Max Priest 
Graham Priest 
Claudette Primus 
Channel Pruitt 
Vincent Punziano 
PwC
Lisa Quammie-Jones 
Kerri Quinn 
Luis Quinones 
Victoria Quintanal 
Andrew Radford 
Raice Contracting Corp
Isabella Rakip 
Rona Ramdharee 
Joyce Ramirez 
Melvin Ramsey 
Mohinder Rana 
Deborah Rand 
Barbara Randall 
Jack Read 
Ronasia Reddix 
Michael Reddy 
Timothy Reed 
Nancy Reichert 
Wismond Reid 
Sheila Reilly 
Loyd Respicio 
Alexandra Reyes 
Sara Reyes 
Hilario Reyes 
Ana Reyes 
Gregory Reynolds 
RHK Interior
Shelley Rice 
John Rice 
Patti Richards 
Robin Richardson-Vaughn 
Clifford Richner 
Bobby Ridgel 
Ridgewood Savings Bank
Roland Riopelle 
Kari Rittenbach 
Michael Rivadeneyra 
Mercedes Rivas 
Ana Rivas-Schultz 
Angie Rivera 
Manuel Rivera 
Elisa Rivera 
Carlo Rizzi 
Margaret Robbins 
Nellie Roberts
Mary Roberts 
Patricia Robins 
Scott Robinson 
Maria Rocha 
Jackson Rockingster 
Michael Rodgers 
Joshua Rodriguez 
Charles Rodriguez 
Christopher Rodriguez 
Nathalie Rodriguez 
Juan Rodriguez 
Albert Rodriquez 
Mona Romain 
Nanette Ronner 
Vedmatee Roopa 
Harvey Roque 
Alexander Rosario 
Michael Rose 
Marilyn Rosenberg 
Steven Rosenthal 
Kathryn Ross 
Rotary Supply Corporation
Marcia Roth 
Lois Rothstein 
Joseph Rovegno 
David Rubeo 
Samuel Rubino 
Sally Rudoy 
Joyce Russell-Andersen 
Angela Russo 
Laura Saborio 
Diana Safyan 
Salesforce
Ashley Salmon 
Daniel Salvatore 
Caroline Sanchez 
Raul Sanchez 
Stephen Sandberg 
Johnny Santana 
Lorraine Santana 
Gregory Santos 
Cassandra Santos 
Theodore Sarrica 
Luis Saturnino 
Marina Sauschuck 
Julia Savchik 
Heather Scapp 
Jill and Jack Shaifer 
Diane Schirripa 
Bonnie Schiuma 
Stephanie Schneider 
Maryann Schnorbus 
Troy Schrom 
Danielle Sciortino 
Sabrina Scott 
Lisel Scranton 
Marnise Sears 
Virginia Selva 
Kaitlin Senitt-Escobar 
Liliya Serebrinskaya 
Jonathan Serrano 
Venkatraman Seshan 
Joy Setton 
Stephen Shanabrook 
Kevin Shanahan 
Maureen Shannon 
Terence Sharp 
Zoe Shea 
Eneyka Shee 
Lisa Shemie 
Mark Shevrin 
Oren Shulman 
Michael Shum 
Zuberi Shury 
Anthony L Sidoti 
Amanda Siebert 
Robert Siegel 
Steven Siegel 
Lisa Sigal 
Edith Silver 
Thomas Silvera 
Veronica Silverio 
Evan Simeone 
Jill Simeone 
Paul Simeone 
Julian Simmons 
Kadejiah Simmons 
Valerie Simon 
Meghan Sinback 
Kate Sinclair-Perry 
Brian Singh 
Carla Singleton 
Ellen Sinkinson 
Edward Skutecki 
Craig Sloan 
Grazyna Sloma 
Carole Smargon 
Kemani Smart 
Terri Smith 
Daniel Smith 
Joseph Smith 
Shirley Smith 
Betsy Smith 
Jaclyn Smith 
Veronica Smith 
Damian Smith 
Elizabeth Snypes 
Karen Sodomick 
Marisa Soghoian 
Sandra Soltoff 
Nazanin Somarin 
Scott Sorkin 
Philip Soto 
Sound Refrigeration and Air Conditioning 
Shannon South 
Chris Southard 
Phyllis Spencer 
Juliette Spertus 
Nikki Spleen 
Joanne Springstead 
Eve Stahlberger 
Adrienne Stark 
Melissa Steineger 
Robert Stephens 
Kimberly Stephenson 
Sterling Floor Designs, LTD
Margaret Stern 
Jonathan Stiles 
Anne Stoddard 
Michelle Stoddart 
Debra Stone 
Stop & Shop
Neil Stower 
Susan Straub 
Laura Strausfeld 
Patricia Sturges 
Marie-Claire Sudres 
Sean Sullivan 
Stephen Sumnick 
Superior Auto Glass, Inc.
Anna Swanby-Laisne 
Kathleen Swift 
Paul Tainsh 
Khaddouj Taouzer-Kherief 
Donna Tapper 
Kensuke Tashiro 
Ryan Tate 
Marguerite Taylor 
Tamara Taylor 
Teodoro Tejada 
Williams Theoville 
Desiree Thomas 
Barry Thomas 
Aitken Thompson 
Malcolm and Janet Thompson 
Stephanie Thompson 
Phyllis Thorne 
Jessica Tingle 
Bradley Tisdahl 
Lauren Titus 
Todd Harris, Co.
Keith Tolbert 
Jane Tomkiewicz 
Michael Torres 
Melanie Torres 
Tory Burch
John Touhey and Patricia Lowry 
Elijah Townsend-Avella 
James Trocchia 
Helen Truax and Ian Ross 
Alisa Trumpele-Gletsos 
Veronica Tucker 
Antoinette Tulloch 
Stephen Turner 
Kristin Turner 
Dr. Wakenda Tyler 
Mursheda Uddin 
Charles Uniman 
United Way of Long Island
University Settlement Society NY
US Again, LLC
Rachelle Valle 
John Van Ingen 
JoAnne Veech 
Margaret Vega 
Israel Velazquez 
Samantha Velez 
Dina Vicenti 
Elaine Villano 
Vincent and Veralyn Viscolyn 
Ernesto Vizcarrondo 
Robert Vogel 
Dana Volini 
Elissa Vomacka 
John Vorwald 
Eva Vukicevic 
Nikoll Vuksanj 
Gary Wachter 
Tyrique Wade 
Lashonta Walker 
Alisa and Bruce Walter 
Michelle Wang 
Richard Wasch 
Rosalina Waters 
Dwayne Waters 
Cherisse Watson 
Webb and Brooker, Inc.
Anne Weber 
Lizabeth Webster 
Webster Bank
Sebastian Weerakkody 
Weight Watchers International
Alice Weiner 
Seymour Weingarten 
Carl Weisbrod 
Anita Weisenfeld 
Caitlin Weisensee 
Dondre Welcome 
David Welles 
Mary Elizabeth Wendt 
Krista Werbeck 
David West 
Maurice Whatley 
Anna Wheatley 
Dana Wheeler 
Christian Whitehead 
Stephen Whitehill 
Phyllis White-Thorne 
Shirley Whitney 
Kaveen Wilkinson 
Paul Forrest Williams 
Edward Williams 
Kendra Williams 
DeQuan Williams 
Schuyler Williams 
Tara Williams 
Zaire Williams 
Paul Williams 
Francis Williamson 
Alberto Wilson Jr.
Brently Winstead 
Robin Winters 
Mark Witkowski 
Elise Wolf 
Wendy Wolf 
Karen Wolfe 
Jill Woller 
Stefan Wong 
Lai Fong Wong 
Latoya Wong 
Michael Wong 
Jonathan Wood 
Jonathan Wood 
Laurie Woods 
Eulene Workman 
Helen Wrobel 
Kuoming Wu 
Sarah Wu 
Bai Lin Wu 
Linda Wu 
Brandon Wu 
Susan Xenarios 
Kako Yamada 
Winne Yang 
Yue Yuan Ye 
Fargana Yesmin 
Rosalind Yhip-Savory 
Jonathan Young 
Kristen Young 
Linna Yu 
Kathy Zamechasnky 
Martin Zeng
Dennis Zervos Jr.
Sandy Zhang 
Kristina Zhang 
Shannon Zhu 
Stuart Zimmerman 
Penelope Zuber 
Angela Zyskowski