From family yoga to parents' night out to family camp, the Y offers programs that brings the family together.
---
Scientific Saturdays
These monthly workshops are designed for adults and children exploring the world together as scientists. Topics change monthly and range from fall and corn to birds, butterflies, and air. Children must be accompanied by an adult. 
Ages 2-7 years
Saturdays 9:30-11 AM

Register for Scientific Saturdays
Family Fun Fridays
Does your family have a family night tradition, a special evening that you set aside to spend time together? Start by spending the first Friday of the month at the YMCA! Each month there is a new theme with games, activities, movies, and snacks. Start the tradition now! Children must be accompanied by an adult.
Ages 2-7 years
Fridays 5:30-7:30 PM
Email us to register for this free program!
Grown Up and Me Yoga
Bond through a series of Asanas for you and your baby! Together you will help them to explore the movements of the body along with the subtle energy of the breath, helping them develop cognitive and motor skills.
Ages 6-18 months
Wednesdays 9:30-10:15 AM
Ages 18-24 months
Wednesdays 10:30-11:15 AM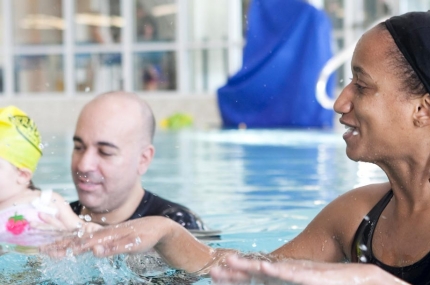 Parent & Child Swim Classes
Accompanied by a parent, infants and toddlers learn to be comfortable in the water and develop swim readiness. Parents learn about water safety and drowning prevention.
Contact Us
Questions about classes at the Y? Our membership team is here to help you.