Keep children ages 5-12 learning and smiling with the following activities.
Downloadable Activities
Alphabet Exercises with the YMCA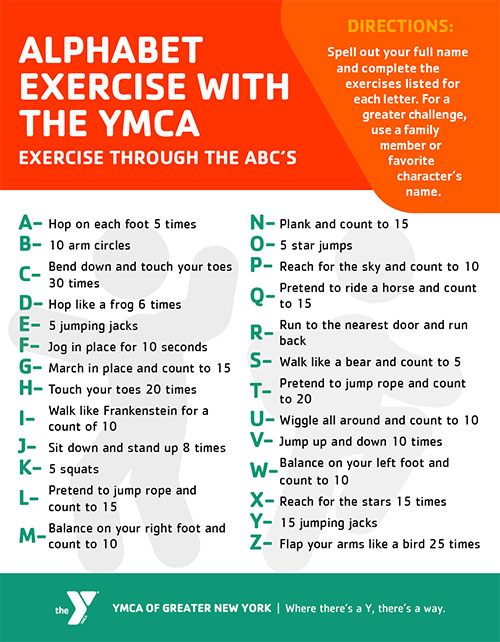 Videos
Paint with Numbers
How to Make Banana Sushi
Arts & Crafts: DIY Magic Wand
Arts & Crafts: Origami
Jumping Jack Challenge
Static Electricity
Tea Party
STEM: Dinosaur Fossils
Scribble Art with Mr. Taishawn
Build Your Own Volcano with Ms. Denise
Story Time with Ms. Denise: The Feelings Book
Story Time with Ms. Denise: The Magic School Bus Blows Its Top
Color Pencil Art with Ms. Genesis
Eat the Rainbow
Links and Resources
Health at Home from CATCH.org >
Sign into the CATCH Google Classroom and click the Classwork tab to access resources for parents, plus fun games, mindfulness tricks, and nutrition activities for kids!
National Parks Trust: Family Resources >
At-home activities and distance learning opportunities, including scavenger hunt, coloring sheets, crosswords, and more, bring the outdoors and parks to kids.
San Diego Zoo >
Enjoy animal activities, stories, videos, and interactive games on this kid-friendly site.
American Museum of Natural History's Ology >
Kids can select their own "ology" and do activities, play interactive games, see videos, and stories about their topic of choice on this site for kids.
Playbill's 15 Broadway Plays and Musicals You Can Watch On Stage From Home >
Stream Peter Pan, Newsies, Into the Woods, and more with Playbill's links to performances on YouTube, Amazon Prime Video, and more.
PBS Kids >
Games, videos, activities, and a daily newsletter for parents with tips to keep kids playing and learning at home.
National Center for Families Learning's 30 Days of Families Learning Together >
Tell stories, interview each other, create a word jar, and more!
LUNCH DOODLES with Mo Willems >
Doodle with children's book author and illustrator Mo Willems every day at 1 PM EST. 
Disney Storyteller on Spotify >
Put on an audio story for the kids and enjoy some time away from screens. Choose from Winnie the Pooh, Aladdin, Cars, Toy Story, The Little Mermaid, Finding Nemo, and more.  
Mommy Poppins' 63 Easy Science Experiments for Kids Using Household Stuff >
Slime, invisible ink, and more—with items you already have around the house.
NYPL's E-Book Central
Borrow e-books, movies, and magazines.
TumbleBooks >
Animated picture books, story books, puzzles, and more.
TumbleBook Cloud Jr >
Chapter books, videos, and audio books for elementary school aged children.
TumbleBook Cloud >
Books and videos from National Geographic perfect for middle and high school students.
Bookflix from Scholastic >
You'll need your NYPL card number to access this collection of video storybooks for PreK-3rd graders.
Scholastic Learn from Home>
Keep kids learning and growing through daily projects and activities created by Scholastic for PreK through middle school.
Census Lesson Plans >
Do your kids know what the 2020 Census is, and why it's important? The Census website offers more than 100 activities and lesson plans for kids from Kindergarten to 12th Grade.