Harlem YMCA Celebrates Business & Community Leaders And Youth Achievers At 46th Annual Ceremony
28 March 2016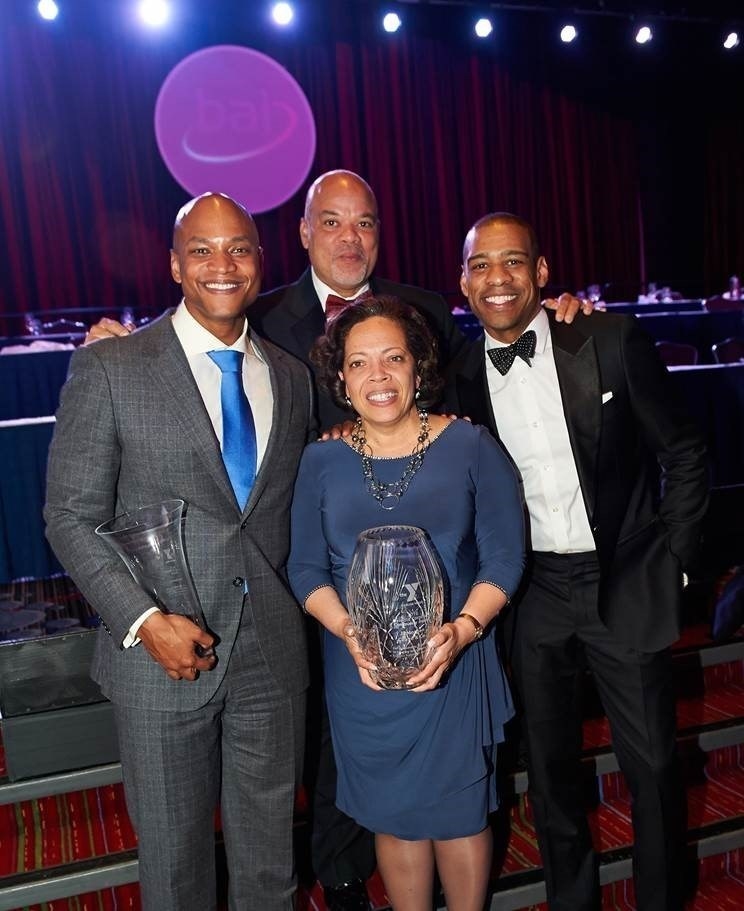 NEW YORK, March 28, 2016 /PRNewswire/ -- The Harlem YMCA proudly celebrated the 46th Annual National Salute to Achievers in Industry (bai) Awards Gala at the New York Marriott Marquis Hotel on March 24th. Since 1971, this annual awards ceremony has convened business and community leaders to celebrate achievers in industry for their corporate leadership and for their service to the community. The event raises funds to provide scholarships and fosters professional development opportunities for college-bound high school seniors, who are tomorrow's leaders and professionals.
"For more than four decades, our annual National Salute to Achievers in Industry Gala has been instrumental to our work nurturing future leaders among the youth and teens of New York City's historic and diverse Harlem community," says John Rappaport, Senior Executive Director of the Harlem YMCA. "Each year the bai Gala recognizes exceptional leaders from across the United States and celebrates our corporate partners who support this incredible program. Our event is also our 'thank you' to the many leaders and organizations who make all of this possible."
Wes Moore (Leo B. Marsh recipient & Key Note Speaker), Roger Arrieux (Achievers In Industry Steering Committee Chair), Valerie Rainford (Managing Director, JP Morgan Chase & Co. and Deloitte Corporate Community Award Recipient) & DeMarco Morgan (CBS New York News Correspondent and the night's Emcee)
 The 2016 Gala honored Wes Moore, bestselling author, founder and CEO of BridgeEDU and Army combat veteran, with the Dr. Leo B. Marsh Memorial Award for community service. BridgeEDU is an innovative, first-year college program that combines academic courses, real-world internship and service experiences with coaching to "on ramp" students to colleges around the United States. He is the New York Times bestselling author of two books, The Other Wes Moore and The Work.
This year's Deloitte Corporate Community Award honoree was JPMorgan Chase & Co. Valerie I. Rainford, Managing Director, accepted the award on the bank's behalf. The JP Morgan Chase Foundation recently established the New Skills for Youth program, a $75 million global initiative to help educators develop career-focused programs for underserved communities that lead to well-paying jobs and long-term employment.
This year's Youth of the Year Award recipient was Nanyamka Scott from the Greenpoint YMCA.
For the sixth year in a row, DeMarco Morgan, News Correspondent for CBS News, served as the evening's master of ceremonies. Apollo Theater Child Star Winner Avery Dixon, Alto Saxophonist, provided entertainment for Gala attendees, which in the past have included luminaries such as Oprah Winfrey, Star Jones and Al Roker.
Helping Youth Succeed through Mentoring, Scholarship and Internship Support
In 1995, the National Salute to Achievers in Industry initiative launched the Corporate Scholarship Program to provide direct support to motivated New York City high school students in pursuit of higher learning. To date, the Corporate Scholarship Program has awarded $1.4 million in college scholarship support to New York City students. The Harlem YMCA will award 45 individual scholarships in 2016, thanks to the program's corporate sponsors.
The bai Mentor program connects successful professionals with motivated New York City teens to realize their full potential through a variety of academic and social resources and experiences. bai alumni are linked with mentees based on the mentee's career goals and mentor's area of expertise, as well as their common hobbies and personal interests. Together, they develop their own schedule of educational, social, and recreational activities, and participate in a host of YMCA events during the school year.
The bai Corporate Internship program offers its college scholarship recipients a paid experience that includes industry-specific exposure and challenging project assignments that provide relevant training to move forward in pursuing a career.
About the YMCA of Greater New York
The YMCA of Greater New York is, and always will be, dedicated to building healthy, confident, connected and secure children, adults, families and communities. With a focus on youth development, healthy living and social responsibility, the Y nurtures the potential of every youth and teen, improves New York City's health and well-being and provides opportunities to give back and support neighbors. In scores of neighborhoods across the five boroughs and its camp upstate, the Y makes accessible the support and opportunities that empower more than 500,000 New Yorkers to learn, grow and thrive. Visit ymcanyc.org. Follow us on Facebook, Twitter, and Instagram at @ymcanyc.