NYC High School Seniors Submit College Application Materials During College Application Week
13 November 2018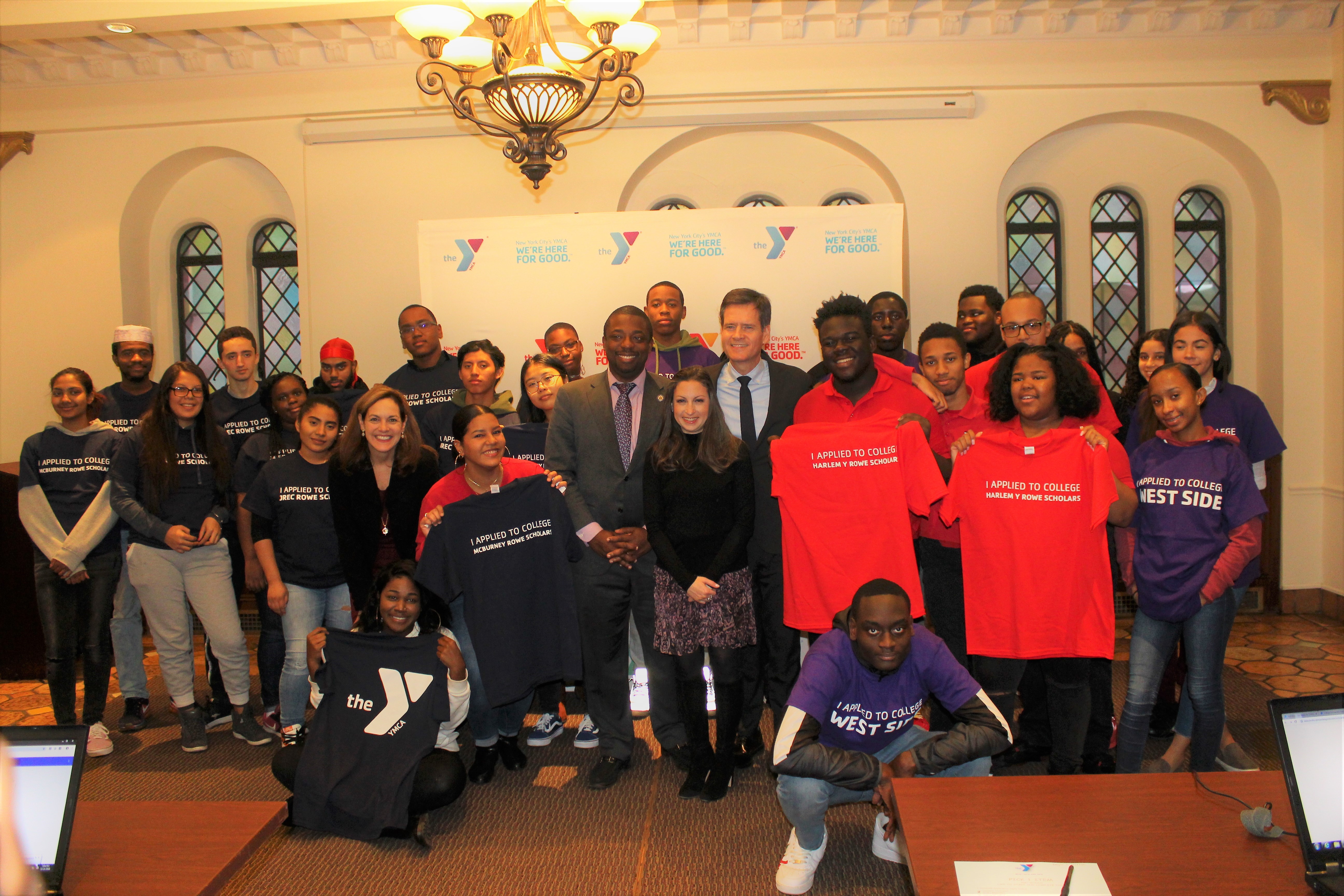 AT&T Contributes $1M to YMCA of Greater New York to Help Students Graduate High School and Succeed in College
---
New York, NY – State Senators Brad Hoylman and Brian Benjamin, AT&T Northeast Region President Marissa Shorenstein, and YMCA of Greater New York President & CEO Sharon Greenberger last night joined more than 20 high school seniors – all of whom are part of the YMCA's Rowe Scholars program – as the students submitted their college application materials during College Application Week. The event recognized AT&T's $1 million contribution to expand Rowe Scholars, the Y's signature college access program for New York City public high school students.
For the past decade, Rowe Scholars has supported youth from underserved communities as they prepare for college, many for the first time in their families. AT&T's contribution will allow the Y to provide alumni services to graduating students for the first time to ensure they matriculate in the fall, successfully complete their freshman year, and persist to their second year. AT&T has given over $1.8M to the Y's Rowe Scholars program in the past six years, and this contribution will allow the program to serve nearly 500 students at nine program sites across the City.
"Expanding the Rowe Scholars program gives more New York City public school students the opportunity to thrive and excel in the early stages of their college career," said State Senator Brad Hoylman. "I applaud A&T and the YMCA for their continued commitment to accessibility and community development."
"At the Y, we believe all young people should have the tools and support they need to achieve their full potential," said Sharon Greenberger, President & CEO of New York City's YMCA. "Because of the generous support of AT&T, our Rowe Scholars program can help even more teens succeed in college and life."
"The YMCA embodies the spirit of the Aspire program to ensure as many students as possible are ready to succeed in a changing world," said Marissa Shorenstein, President, Northeast Region, AT&T. "The Y is a critical support system for students in public school, and our hope is that this funding will help the Y to put even more students on the path to success in college and beyond."
AT&T's support for the Y is part of the Company's legacy of supporting educational programs in New York through AT&T Aspire, the Company's $400 million philanthropic initiative that drives innovation in education by bringing diverse resources to bear on education funding, technology, employee volunteerism and mentoring. Due to the Y's success in supporting and motivating underserved students to stay in school and prepare for their next step in life, it was selected as one of 10 recipients nationwide to share in $9.25 million in celebration of AT&T Aspire's 10-year anniversary.
Aspire is one of the nation's largest corporate commitments, focused on school success and workforce readiness by creating new learning environments and educational delivery systems to help students succeed and prepare themselves to take on 21st century careers.
About Philanthropy & Social Innovation at AT&T
AT&T is committed to advancing education, strengthening communities and improving lives. Through its community initiatives, AT&T has a long history of investing in projects that create learning opportunities; promote academic and economic achievement; and address community needs. The Company's signature philanthropic initiative, AT&T Aspire, drives innovation in education to promote student success in school and beyond. With a financial commitment of $400 million since 2008, AT&T is leveraging technology, relationships and social innovation to help all students make their biggest dreams a reality.
About the New York City's YMCA
New York City's YMCA is here for all New Yorkers — to empower youth, improve health, and strengthen community. Founded in 1852, today the Y serves a diverse population of more than half a million New Yorkers who learn, grow, and thrive through programs and services at our 24 branches. Community is the cornerstone of the Y. Together, we connect active, engaged New Yorkers to build stronger communities. Follow us on Facebook, Twitter, and Instagram at @ymcanyc.
Contact Info:
AT&T Contact: Marisa Rodriguez, mrodriguez@skdknick.com or 646-930-1243
YMCA Contact: Erik Opsal, eopsal@ymcanyc.org or 212-630-9699