YMCA of Greater New York Opens State-of-Art La Central YMCA in the South Bronx
27 October 2022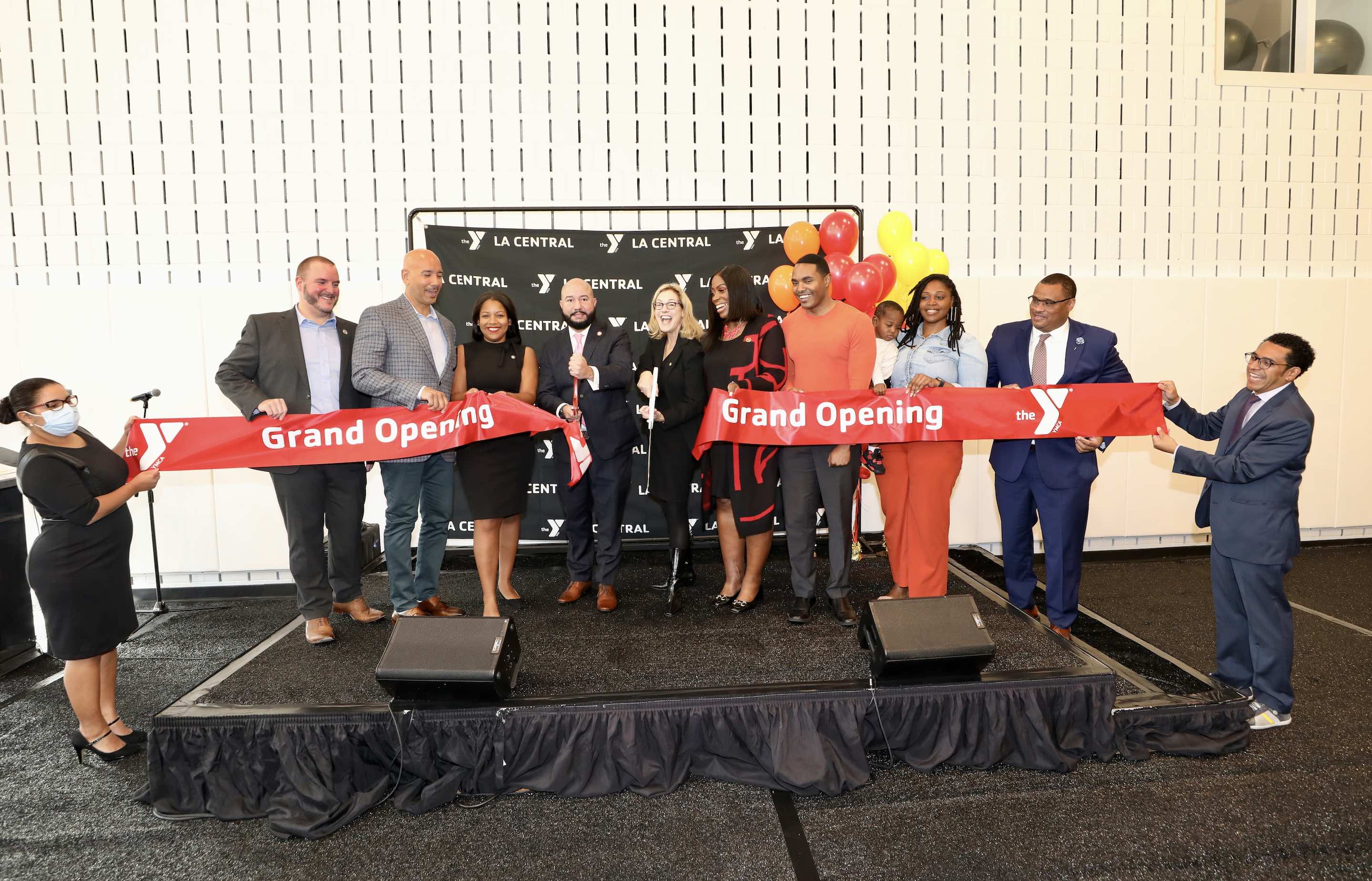 Brand-new facility gives the Bronx second new YMCA in the last year
NEW YORK, NY – The YMCA of Greater New York significantly expanded its capacity to serve Bronx residents, when the new La Central YMCA branch on Westchester Avenue in the South Bronx opened on October 27th. The La Central Y is the 24th YMCA branch in New York City and the third in the Bronx.
The new 50,000 square foot YMCA is located in "The Hub," a diverse, vibrant community located at the junction of four major thoroughfares and a number of subway and bus lines. The La Central Y is one of the anchors of a new multi-building, mixed-use development project that includes retail, community, and outdoor recreation space, as well as nearly a thousand new affordable housing units.
The La Central Y has been more than a decade in the making. In 2013, the New York City Department of Housing Preservation and Development ("HPD") awarded an RFP to develop La Central, a multi-block assemblage of vacant land, to a broad-based coalition that included the YMCA of Greater New York, BRP Companies, Hudson Companies, ELH-TKC, Breaking Ground, and Comunilife. The Y branch was designed by FXCollaborative and features large windows facing Westchester and Bergen Avenues, generous public lounge spaces, and a signature tile wall inspired by the colors of the Bronx flag.
The La Central YMCA offers the vast array of the Y's hallmark programming and services for all ages, from early childhood and school-age to teens, young adults, adults, and seniors. Among the facility's highlights are:  
A contemporary aquatics center featuring two pools, a family pool and 25-yard lap pool.  The pools will allow the Y to offer a diverse range of aquatics programming from lap swimming to swim instruction classes and family recreation 
The Y's free, nationally-recognized lifeguard training program  
A customized spin studio with a state-of-the-art sound and lighting system 
Fully-equipped fitness and wellness centers 
A full-size gymnasium that can accommodate a variety of uses from basketball and volleyball to summer camp and pickleball 
Accessible recreational and common areas that promote community, well-being, and belonging 
Activities include fitness, leadership, and civic engagement programming for all ages, social, recreational, and health programming, after school services and classes, mentoring and job training for teens and young adults, youth empowerment programs, and wellness and nutrition classes, among many other services. The La Central Y created about 100 temporary construction jobs and will generate about 85 permanent local jobs in branch operations and programs. 
"The La Central Y represents the persistence and partnership of elected officials, community leaders, and nonprofit organizations," said Sharon Greenberger, President and CEO of the YMCA of Greater New York. "The YMCA is proud to play a role in the growth of the Bronx and provide a safe, welcoming hub for the community to gather, grow, and strengthen their health. We look forward to continuing to work closely with our new neighbors to create programs and services that meet the needs of South Bronx families and that are affordable and accessible to all." 
"A lifelong resident of the South Bronx, the revitalization that is occurring near the 149th Street 'Hub' has been awe-inspiring to witness firsthand," stated Council Member Rafael Salamanca, 17th Council District, The Bronx. "What used to be abandoned, rock-filled plots of land is now home to limitless opportunity for the next generation of Bronxites. The La Central development has anchored that change, bringing thousands of units of 100% affordable housing, a school, and the La Central YMCA. State-of-the-art in every way, the La Central YMCA will be a beacon of physical, emotional and personal growth for New Yorkers of all backgrounds and ages.  As one of the earliest supporters of this project, I am proud to have secured millions of dollars in capital funding to make this incredible day a reality. I would like to thank everyone who had a hand in paving the way for the opening of this remarkable facility." 
"Witnessing firsthand the positive impact YMCA facilities have had on often overlooked communities is why I am a supporter of the YMCA," said NYS Assembly Speaker Carl Heastie. "The building of new facilities across our borough will give families the ability to access a multigenerational space where they can take advantage of much needed resources, as well as have the ability to build a strong sense of community. The completion of yet another YMCA here in the Bronx illustrates that when we collaborate, we can make lasting investments into our neighborhoods." 
"I am thrilled by the opening of the new YMCA at La Central," said Bronx Borough President Vanessa L. Gibson. "This state-of-the-art community center and recreation space includes fitness equipment, swimming pools, a dance studio and space to participate in a variety of programming to combat health inequalities in our borough. The YMCA will be a truly transformative addition to the neighborhood, and I want to thank everyone who brought this project to fruition." 
"The opening of La Central YMCA is amazing news for the residents of the South Bronx," said Congressman Ritchie Torres. It will be an incredible space where families can participate in various activities and events that prioritize health, civic engagement, and career readiness. The South Bronx is full of talented creators, entrepreneurs, and changemakers who will now be able to take advantage of all the offerings of a YMCA. I applaud the opening of La Central YMCA and the incredible resources it will bring to our community and look forward to partnering with the YMCA to continue bringing a positive and inspirational change to the South Bronx." 
"It fills me with joy to witness the completion of "La Central YMCA" here in the Bronx," said State Senator Luis Sepúlveda. "The YMCA has a great history helping our communities, particularly our youth. The values they learn in their various programs and the passion that their mentors put into educational and recreational activities are a fundamental tool in their development.  With the opening of "La Central YMCA", our communities will be able to access high quality services as the YMCA is known for. I welcome "La Central YMCA'' with open arms and invite all constituents to come and learn about its facilities and services." 
"YMCA of Greater New York has been a dynamic resource in the Bronx borough for decades," said Assemblywoman Amanda Septimo.  "We are excited to see La Central YMCA open its doors to South Bronx youth, seniors, and families this year. La Central YMCA's location is nestled in the Hub, a bustling neighborhood, where neighbors will be able to take advantage of La Central's community-focused facilities and programs.  From gyms to gathering spaces, La Central will be an essential resource, encouraging community, and helping to build a healthier and more resilient South Bronx. Welcome to the Hub, La Central YMCA!" 
"The opening of the La Central YMCA represents so much more than just the opening of a community center," said Michael Brady, CEO of Third Avenue Business Improvement District and Bruckner Boulevard Commercial Corridor. "It signifies a very special investment in our community and the entire Bronx - one that was brought about by sheer tenacity, vision, and commitment to changing the dialogue in terms of public health, economic development, and programming disparities in the South Bronx. I am especially grateful to the diverse teams that have brought this project to fruition and am proud to have this state-of-the-art facility a stone's throw from the HUB - the Bronx's busiest transportation center. I know this investment in our community will be a welcomed addition by so many Bronx residents and families." 
As New York City's leading nonprofit community service and wellness organization, the Y will continue to work with community leaders to ensure that the branch is leveraging its resources and partnerships to best serve and support the families of the Bronx. 
The La Central YMCA becomes the third branch in the Bronx, joining the Castle Hill YMCA, which has served the Bronx community since 1946 and the state-of-the-art Northeast Bronx YMCA, which opened last September, furthering the Y's commitment to the Bronx.