YMCA of Greater New York Honors Heroes of New York at 46th Annual Dodge Dinner
07 June 2022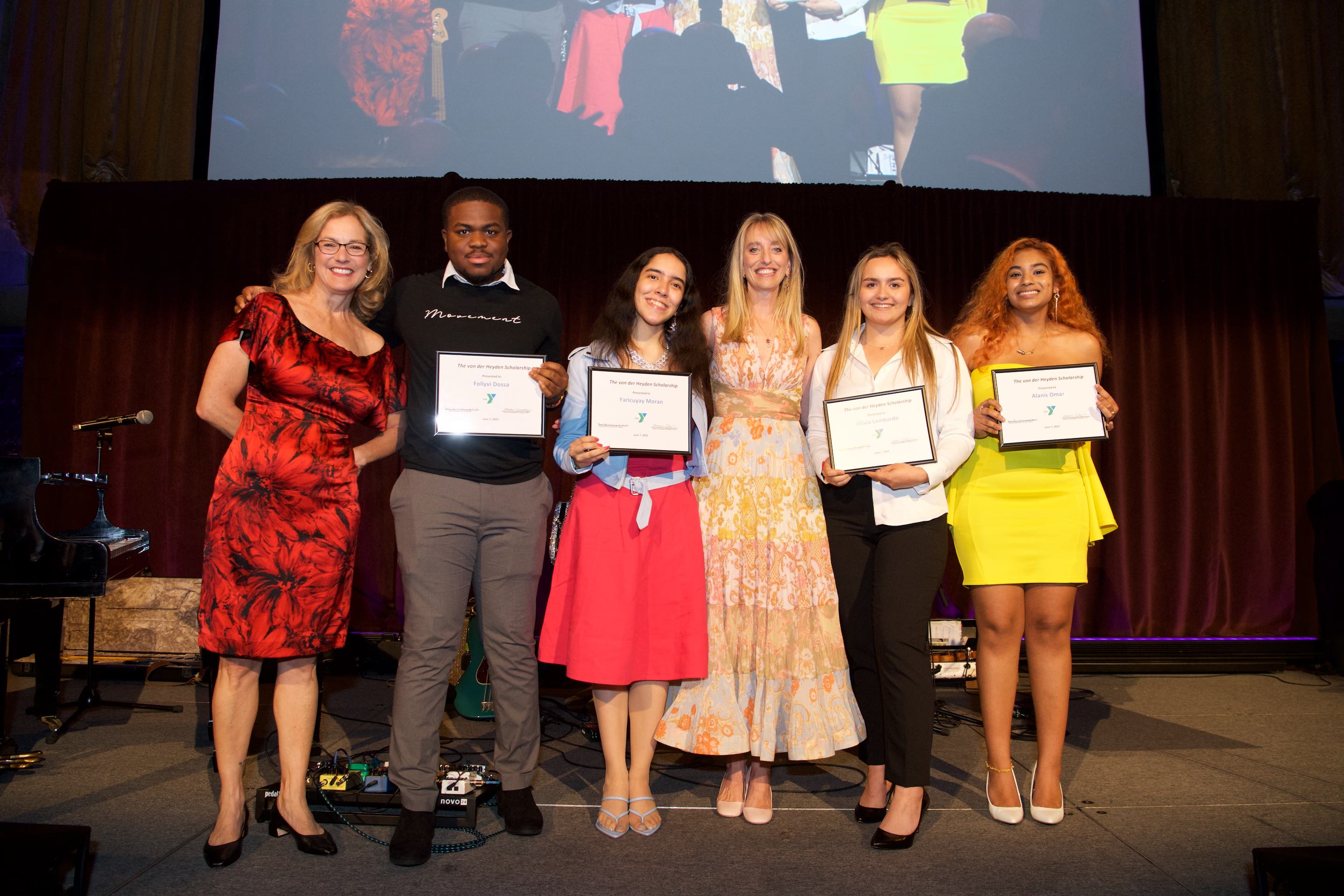 U.S. Senate Majority Leader Chuck Schumer, Dr. Wayne Riley, and MetLife Foundation recognized for their commitment to the Y's mission during the pandemic
NEW YORK, NY – On Tuesday, June 7, the YMCA of Greater New York hosted its 46th Annual Dodge Dinner at Cipriani 42nd Street. At the event, the Y presented the Dodge Award to both U.S. Senate Majority Leader Chuck Schumer and MetLife Foundation and the Order of the Red Triangle to Dr. Wayne Riley.

Created in honor of the Dodge family of New York City, the Dodge Award is the YMCA of Greater New York's most prestigious honor, presented to outstanding individuals and institutions who epitomize the Dodge family's 170-year-old tradition of service to fellow New Yorkers. The Order of the Red Triangle is a national award from YMCA of the USA that is presented to an individual who has demonstrated outstanding leadership, made a citywide impact on the YMCA Association, and whose service has supported the ideals and advanced the work of the Y. 

"When the pandemic struck New York City and our nation, the YMCA responded with speed and urgency to meet the rapidly changing needs of New Yorkers," said Sharon Greenberger, President and CEO of the YMCA of Greater New York. "That wouldn't have been possible without the support of the three heroes we honor tonight: Senator Chuck Schumer, Dr. Wayne Riley, and MetLife Foundation. Senator Schumer's advocacy on behalf of the Y enabled us to survive and continue to serve communities in need throughout the pandemic. Dr. Riley's leadership and expertise enabled the Y to restart membership services at our branches as safely and efficiently as possible. And MetLife Foundation's flexibility and responsiveness enabled the Y to address urgent needs within the community including vaccinating 95,000 New Yorkers, distributing 260,000 pounds of food, and expanding our transitional housing capacity." 

"It is an honor to receive the Dodge Award from the YMCA of Greater New York, an organization close to my heart," said U.S. Senator Chuck Schumer. "I am proud to have fought to make organizations like the Y eligible for Paycheck Protection Program funding last year, making it possible to keep people on staff and caring for their families during COVID. The Y has been instrumental to New York's pandemic recovery, and I am excited to continue working with them to strengthen our communities across the five boroughs." 

"I'm humbled to receive the prestigious Order of the Red Triangle award," said Wayne J. Riley, M.D., President of SUNY Downstate Health Sciences University and YMCA Board Member.

"The YMCA has long been a safe haven for families to build spirit, mind, and body. The Y was most needed during the pandemic as they sought to work within the constraints of the virus to meet the needs of the 210,000 people they serve each year. It is this work that continues to inspire me—as well as so many friends of the Y—to work steadfastly ensuring that families receive the best it has to offer." 

"For 170 years, the YMCA of Greater New York has been a hub of connection, health and strength for people across New York City," said Michael Zarcone, executive vice president and head of Corporate Affairs for MetLife and chairman of MetLife Foundation. "As a long-standing partner of the Y, MetLife Foundation shares the Y's commitment to building resilient communities. We are proud of this recognition and our collective efforts to support the city's ongoing recovery from the pandemic." 

In addition to the Dodge Award and the Order of the Red Triangle, the YMCA celebrated Alanis Omar of the Flushing YMCA, Olivia Lombardo of the South Shore YMCA, Follyvi Dossa of the Harlem YMCA, and Yaricuyay Moran of the McBurney YMCA, who were awarded the 2020 and 2021 Von der Heyden Scholarships. The scholarship is presented annually to two high school students who have exhibited strong leadership qualities and a determination to better their communities. Since this is the first time the Dodge Dinner has been held since 2019, the Y is awarding the four scholarships this year. Each winner is receiving $5,000 a year for four years for their college studies.

Alanis Omar graduated from Queens High School for Language Studies in June 2021 and is entering her sophomore year at CUNY City College. Alanis was a dedicated teen participant of the Flushing YMCA at the Beacon JHS 189 site and was selected to represent the YMCA as a participant in the Colombia Y's Global Youth Leaders Hub Program. Olivia Lombardo graduated from Staten Island Academy in June 2021, and is a rising sophomore at Yale University. Olivia was a dedicated teen participant at the South Shore YMCA and was elected as the Teens Take the City's Youth Borough President for Staten Island. Follyvi Dossa graduated from the Thurgood Marshall Academy in June 2020 and is a rising junior at Morehouse College. During his first year at Morehouse, Follyvi worked with the National Action Network, focusing on crises impacting youth including domestic violence and homelessness. Yaricuyay Moran attends SUNY Potsdam College where she is interested in studying STEAM and law, so she can pursue her interest in becoming an environmental lawyer and activist. Yari has been a participant in YMCA programs since she was a child, including swim lessons, summer camps, and Rowe Scholars.

More than 300 people attended the Dodge Dinner, which included New York State Poet Laureate Willie Perdomo. All proceeds from the event will be used to support and expand access to Rowe Scholars, the YMCA of Greater New York's comprehensive college and career access program that's offered throughout all five boroughs. Rowe Scholars have access to individualized academic planning and support, college tours, curriculum-based workshops, career events, financial literacy training, and support with FAFSA and admissions exams. 
About the YMCA of Greater New York 
For 170 years, the YMCA of Greater New York has been helping all New Yorkers reach their full potential. As New York City's leading nonprofit community service and wellness organization, the Y empowers everyone, no matter who they are or where they're from, by providing access and opportunities for all to learn, grow, and thrive. We provide a place to play, to be healthy, and to give back. We give parents childcare, young adults job training, seniors a way to connect, and children a safe place to go. By bringing people together from different backgrounds, perspectives, and generations, the Y improves overall health and well-being, ignites youth empowerment, and connects and supports diverse communities across New York City.  Follow us on Facebook, Twitter, and Instagram at @ymcanyc.