YMCA of Greater New York Marks 170th Anniversary With Week of Community Events
24 May 2022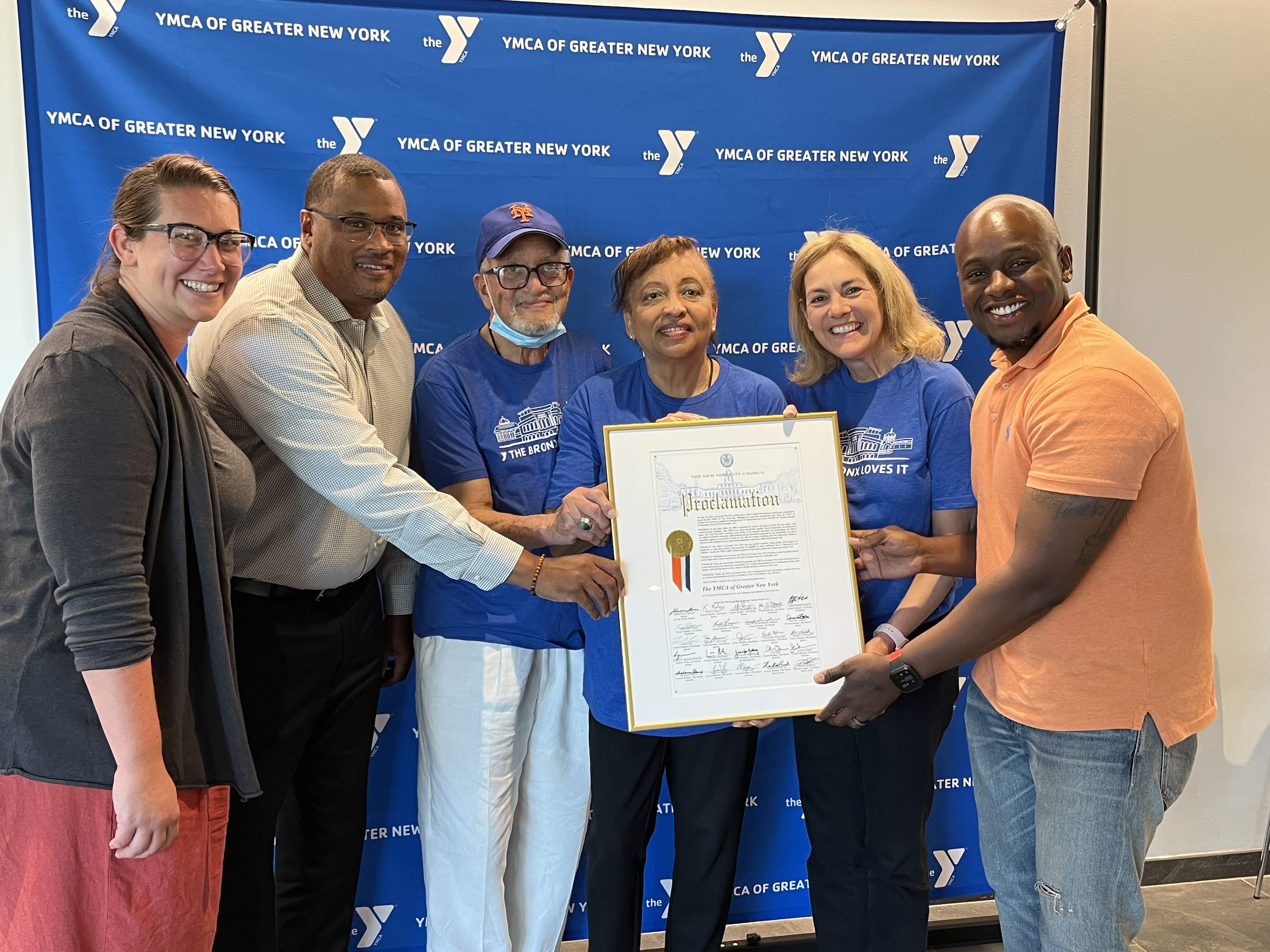 NEW YORK, NY – On May 28, 1852, a group of 300 New Yorkers gathered together at Mercer Street Presbyterian Church in Greenwich Village and made a commitment to form the first YMCA in New York City. In the 170 years since that day, the YMCA of Greater New York has flourished, becoming New York City's leading nonprofit community service and wellness organization, serving more than 500,000 New Yorkers annually through 23 branches across all five boroughs. 
To commemorate its founding, the YMCA of Greater New York is inviting the communities it serves into branches for a week-long celebration (May 23–27, 2022), called "Y Community Week." During the week, Y community members will have the opportunity to participate in events at their local branches as well as the Battle of the Boroughs virtual 5K race. In addition, on Monday, May 23, City Council Member Kevin Riley presented YMCA of Greater New York President & CEO Sharon Greenberger with a City Council Proclamation at the Northeast Bronx YMCA. 
"170 years after our founding, the YMCA remains an essential institution for New York City," said Sharon Greenberger, President and CEO of the YMCA of Greater New York. "The Y provides a safe, welcoming place for New Yorkers to gather, connect, and strengthen their communities. We look forward to continuing to work closely with our neighbors to create programs and services that meet the needs of New Yorkers and that are affordable and accessible to all." 
The YMCA's growth has mirrored that of the City it serves, and the Y branches are important hubs in all of their communities.  Over the last two years, the YMCA of Greater New York responded with speed and urgency to support communities in new ways, through expanded housing, emergency childcare, and remote learning for students citywide. The Y also evolved its services to meet the rapidly changing needs of New Yorkers, including delivering 95,000 COVID vaccinations, distributing 260,000 pounds of food to families in need, and hosting in-person day camps to enable parents to return to work. 
"Commemorating 170 years of service speaks volumes to the YMCA of Greater New York's commitment to protecting and serving New York City communities," said Council Member Kevin C. Riley. "I am honored to celebrate the Y for its impact in providing safe spaces and programming for neighbors of all ages. The Northeast Bronx YMCA has been the light in my district, where there has long been a need for a shared community space to uplift our families. Thank you to the entire Y community for their continued partnership with City Council, and communities are excited to participate in the citywide celebration of this milestone with Y Community Week."
"For 170 years, the YMCA of Greater New York has served millions of New Yorkers looking to improve their health," stated Council Member Rafael Salamanca, 17th Council District, The Bronx. "Ever evolving to benefit their members, the Y has expanded their mission statement to empower our youngest New Yorkers and strengthen the communities in which they operate within. A proven track record of overwhelming success, I am pleased this monumental celebration coincides with the grand opening of the Y's newest branch – La Central YMCA – in the heart of the South Bronx in my district."
Throughout its 170-year history, the YMCA has evolved continuously, adapting its services and programs to meet New Yorkers' most pressing needs, and working to ensure that all New Yorkers are welcome in its branches and programs. As the organization looks toward the future, the Y plans to open a new branch in the South Bronx and launch a new initiative designed to enhance its positive impact on the lives of New Yorkers. 
### 
About the YMCA of Greater New York   
For 170 years, the YMCA of Greater New York has been helping all New Yorkers reach their full potential. As New York City's leading nonprofit community service and wellness organization, the Y empowers everyone, no matter who they are or where they're from, by providing access and opportunities for all to learn, grow, and thrive. We provide a place to play, to be healthy, and to give back. We give parents childcare, young adults job training, seniors a way to connect, and children a safe place to go. By bringing people together from different backgrounds, perspectives, and generations, the Y improves overall health and well-being, ignites youth empowerment, and connects and supports diverse communities across New York City.  Follow us on Facebook, Twitter, and Instagram at @ymcanyc.