YMCA Teens Address NYC's Challenges at the 16th Annual Teens Take the City Event
23 May 2022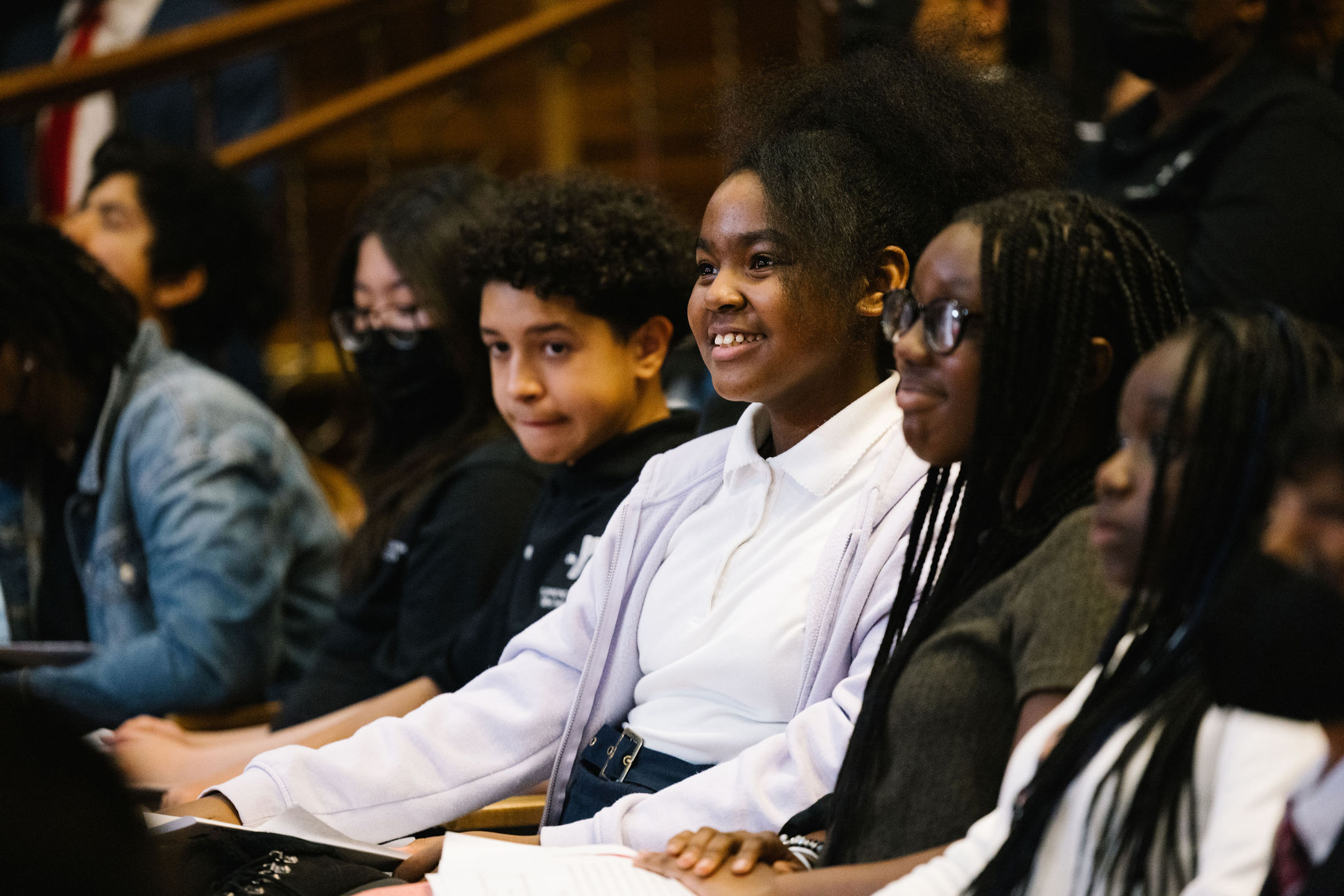 Youth-Led Year-Long Program Culminates in City Hall Event 
NEW YORK, NY – On Friday, May 20th, more than 50 teens from across New York City gathered at the West Side YMCA's Little Theater for the fourteenth annual YMCA Teens Take the City Event. At the event, which is typically hosted in City Council Chambers, the teen participants held a mock-legislative session to present and vote on this year's legislative proposals put forth by their peers. The session was presided over by a Teen Mayor, Teen Public Advocate, and Teen Borough Presidents.   
Council Member Gale Brewer, Grow with Google Education Lead Rob Magliaro, and YMCA of Greater New York President & CEO Sharon Greenberger all attended to support the teen leaders and thank them for their active participation in their local communities. 
YMCA Teens Take the City is a year-long civic engagement program focused specifically on New York City government and fostering community organizing skills to build thoughtful leaders of tomorrow. Teens Take the City aims to educate participants about who runs their neighborhoods and how to become active participants in their schools and communities. Program activities include community mapping projects, educational workshops, and the preparation of a presentation showcasing students' research and findings.  
YMCA Teens Take the City provides students with opportunities to: 
Strengthen their leadership, community organizing, and advocacy skills. 
Increase their understanding of the New York City legislative system. 

Read and debate current bills before the New York City Council. 

Improve their public speaking, listening, and communication skills. 

Meet and work alongside local elected officials and managers of NYC agencies. 

Pursue internship opportunities within city government. 
Make a change in their communities. 
"Teens Take the City helps young people to hone their advocacy skills, discover their voices, and understand how they can personally and collectively inspire positive change in their communities," said Sharon Greenberger, President & CEO of the YMCA of Greater New York. "Tonight and over the last year, they've demonstrated the power of collaboration and thoughtful leadership, as they've wrestled with some of the most important issues facing our City." 
"We want to thank Council Member Brewer and the entire New York City Council for their ongoing support of this program – without them, it would not be possible," said Greenberger. And we are enormously grateful to Jesse Haines and the team at Grow with Google for their incredible generosity and support of the YMCA's Teens Take the City and Rowes Scholars programs, including the donation of 65 Chromebook laptops to YMCA teens this year." 
Over the last year, the teens have served as "elected officials" – including a Youth Mayor, Borough Presidents, and City Council Members – and have developed legislation to strengthen their communities and address some of New York City's most vital needs. At the City Hall event, the teens debated and voted on the bills that had earned the strongest support, including: 
Public Safety: A local law to mandate monthly audits to ensure that NYCHA is following through with maintenance checks. 

Education: A local law to increase mental health awareness among students, parents, and teachers. 

General Welfare: A local law to combat food deserts and increase food education in Central Brooklyn. 

Health: A local law to address the quality of school foods. 
### 
About the YMCA of Greater New York 
For 170 years, the YMCA of Greater New York has been helping all New Yorkers reach their full potential. As New York City's leading nonprofit community service and wellness organization, the Y empowers everyone, no matter who they are or where they're from, by providing access and opportunities for all to learn, grow, and thrive. We provide a place to play, to be healthy, and to give back. We give parents childcare, young adults job training, seniors a way to connect, and children a safe place to go. By bringing people together from different backgrounds, perspectives, and generations, the Y improves overall health and well-being, ignites youth empowerment, and connects and supports diverse communities across New York City.  Follow us on Facebook, Twitter, and Instagram at @ymcanyc.