YMCA of Greater New York to Open Northeast Bronx Location in September
09 September 2021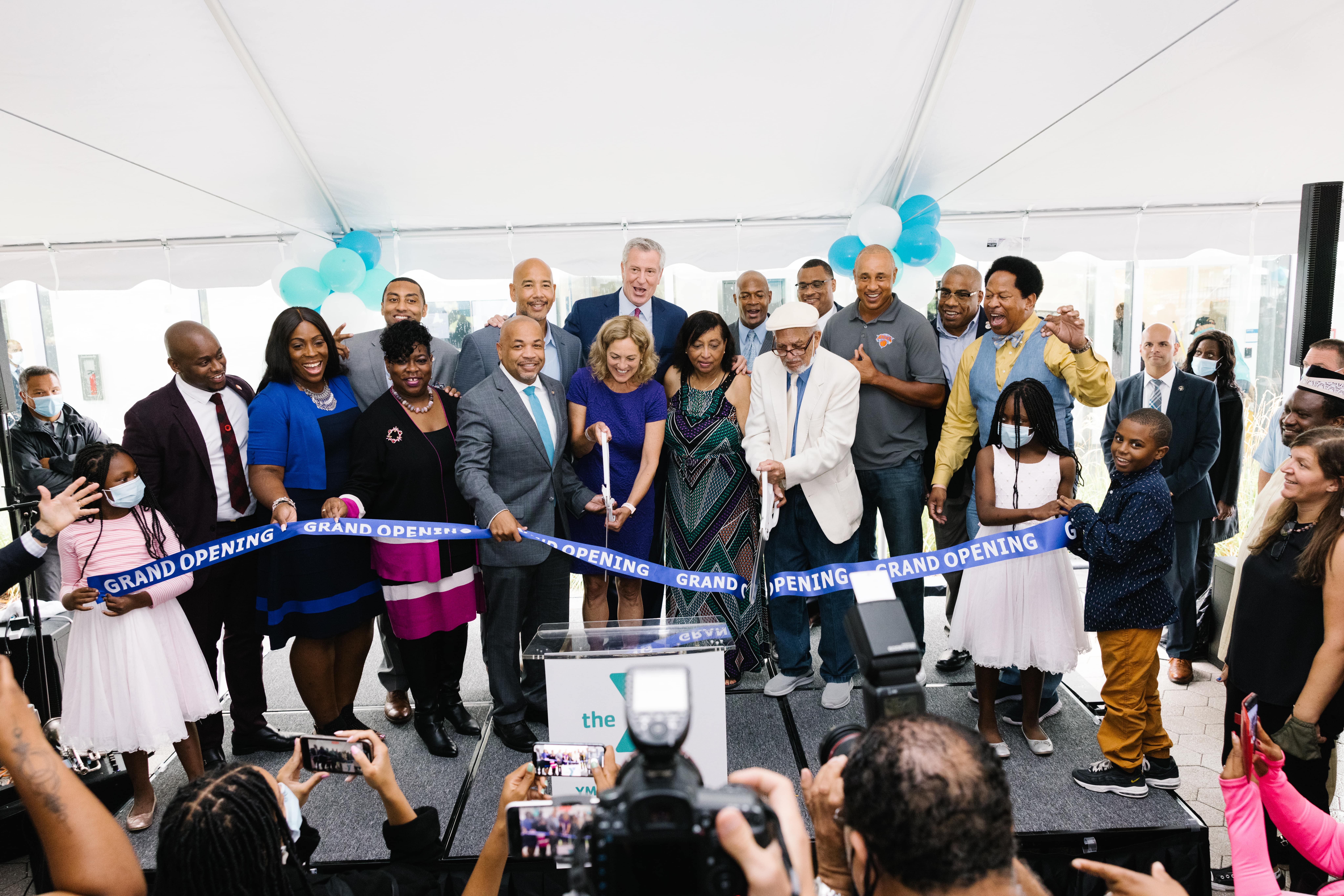 NEW YORK, NY – Thirty years in the making and in celebration of community, the YMCA of Greater New York will open a new state-of-the-art branch located in the Northeast Bronx on September 7.   
The 50,000 square foot facility, built amid a three-acre "urban forest" of City-owned land, was developed in  partnership with a broad coalition of community leaders and elected officials and in response to the critical need for a community hub and the wide array of educational, cultural, social, and health programs and services that the Y provides to New Yorkers of all ages. The Northeast Bronx Y was designed by the award-winning architectural firm Marvel and was built by Gilbane Building Company.
The Northeast Bronx branch -- the first new YMCA in the Bronx in over 30 years – integrates its indoor and outdoor areas to form a campus that connects members to its natural surroundings. The environmentally-friendly building is built to LEED Gold standards. The facility features a unique urban agricultural roof and  teaching kitchen for members to engage directly in  the importance of nutrition and eating healthy.
The facility is home also to a contemporary aquatics center featuring two pools, a magnificent gymnasium for basketball and other sports, modern fitness center and wellness studios, and fully accessible recreational areas to promote community and belonging, as well as protected outdoor play and program spaces for enhanced camp and afterschool programs. An adjacent parking lot offers over 100 spaces, and later this Fall, will offer publicly accessible charging stations for electric vehicles.
Activities will include social, recreational, cultural, educational and health programming for members across the age spectrum, from early childhood to adolescents, teens, young adults, adults, and seniors.
"The opening of the Northeast Bronx YMCA is a victory for this community and for New York City," said Sharon Greenberger, President and CEO of the YMCA of Greater New York. "More than a decade ago, the Y made a commitment to the Bronx, and we're proud to fulfill that promise today. Not only will this Y provide opportunities for young people to learn and grow and for adults to improve their health and well-being; the branch was designed to serve as a critical hub for the neighborhood, supporting the efforts of Bronx residents to strengthen their community."
"This magnificent building and all that it offers would never have been possible without the vision, leadership, and persistence of Al de Castro, Shirley Fearon, and the entire Northeast Bronx Community Coalition, as well as countless elected officials including Carl Heastie, Jamaal Bailey, and Kevin Riley," continued Greenberger.   
Alonzo de Castro, co-chair of the Northeast Bronx Community Coalition, said, "The vision, the dream, the need is now fully realized with the opening of the Northeast Bronx YMCA. I have no doubt that this branch will be a transformational force for good in our community, for many generations to come."
Shirley Fearon, the other co-chair of the Northeast Bronx Community Coalition, said, "I've lived in the northeast Bronx for 70 years and we have never had a facility that can adequately meet the needs of our wonderful community. The Northeast Bronx YMCA is a tremendous blessing to the families of the Bronx, with programs and services that will improve the lives of thousands of our neighbors."
"Three years following the initial ground breaking, the community's dream of a multigenerational center has now come to fruition," said NYS Assembly Speaker Carl Heastie.  "For decades, countless community leaders and elected officials have asked for a space like this, and today many prayers have been answered. The completion of the Northeast Bronx YMCA illustrates that when government, non-profit organizations, and community leaders come together, we can make lasting investments into the health, wealth, education, and overall well-being of often overlooked communities. This new center will be essential to the positive growth of our neighborhood and NYC as a whole, and for this I would like to extend my sincere thank you to all."
"We will build a Recovery for All of Us by investing in communities like the Northeast Bronx," said Mayor Bill de Blasio. "This brand new state-of-the-art YMCA will provide adults and youth alike with opportunities like never before and strengthen the entire community. I am thankful for the partnership of leaders across government and civic organizations for making today a dream come true." 
"I am thrilled by the opening of the much-anticipated new YMCA in the Northeast Bronx," said Bronx Borough President Ruben Diaz Jr. "This state-of-the-art community center and recreation space will provide a much needed space filled with a variety of programming and will be a truly transformative addition to the neighborhood. I am proud to have helped move this project forward with $3 million from my capital budget and I would like to thank Mayor Bill de Blasio, NYS Assembly Speaker Carl E. Heastie, my colleagues in government and the NYCEDC for bringing this project to fruition."
"I'm excited to welcome the YMCA into the Northeast Bronx with the opening of this state-of-the-art facility, because our community deserves access to spaces that cultivate the mind, body, and spirit," said Congressman Jamaal Bowman. "It's a good day to be a resident of NY-16 and part of the Y family, and I'm looking forward to joining all Bronx residents at this facility to partake in recreational, educational, cultural, and social activities."
"Community members have fought for this for so long and it is truly momentous to see our vision come to life," said State Senator Jamaal Bailey. The first new YMCA in the Bronx in over 30 years, this transformative addition will serve our Northeast Bronx community for many years to come and help shape the thriving communities and vibrant neighborhoods of the future. With modern, state-of-the-art facilities, and historic investments in community programming, our young people, families, and seniors will have a dedicated space at home here in the Bronx to grow and thrive. I want to thank the YMCA for truly investing in our community and understanding the need for a center like this in the Northeast Bronx. I also want to thank my colleagues in government for their fierce advocacy for this project, especially Assembly Speaker Carl Heastie. Last but certainly not least, as a son of the Northeast Bronx, I am forever indebted to Al de Castro, Shirley Fearon, and every member of the Northeast Bronx Community Coalition for their tireless efforts and vision in bringing this long-awaited center to our community."
"Growing up in this district, there was a great need for a state of the art community center  rooted in serving the people." said Council Member Kevin C. Riley.  "The presence of the Northeast Bronx YMCA is fundamental to the well-being of this community, and a safe haven for all members of the district to come together and fellowship. Uplifting the community through service and educational and health programming, The Y will also help in addressing our borough's #Not62 Campaign initiatives. This facility is a direct indication of the future we want to see for the Bronx.  As a parent of two young daughters, I am happy that the children, youth, seniors and all families of the Northeast Bronx will now have a Y to call home."
"YMCA community and recreational facilities have long played an important role in contributing to the vitality of New York City neighborhoods and their residents," said Lorraine Grillo, the City of New York's Senior Advisor for Recovery. "The opening of this incredible new facility is a beacon for the Northeast Bronx and will provide critical support for communities as we continue to build a recovery for all of us."
"This beautiful new YMCA will provide New Yorkers of all ages with a much-needed place to gather, play, and thrive for years to come," said New York City Economic Development Corporation President and CEO Rachel Loeb. "It's not just a building. It is a centerpiece for this vibrant community. We are so excited to have contributed to this vision and to have collaborated with our city and state partners, the YMCA, and so many other community leaders to make this longtime dream a reality for the people of the Bronx."
"Community Board 12 is grateful to the YMCA and all the elected officials that made this possible," said George Torres, District Manager, Bronx Community Board 12. This recreation center had been our number one priority for decades and to finally see it in person is beyond words. This is no longer a dream deferred but rather a promise kept. We look forward to all the amenities and programs that will be offered to our constituents and we hope our community takes full advantage of this Y."
The Northeast Bronx branch is the result of an extraordinary partnership between community activists, dedicated elected officials, and the Y, and is a powerful reminder of what is possible when government, the nonprofit sector, and the community unite behind a great idea and work together to make it a reality.
As New York City's leading nonprofit community service and wellness organization, the Y will continue to work with community leaders to ensure that the branch is leveraging its resources and partnerships to best serve and support the families of the Bronx.
The Northeast Bronx YMCA will become the second branch in the Bronx, joining the Castle Hill YMCA, which has served the Bronx community since 1946. Later this Fall, a third branch, La Central YMCA, will open to the public.
###
About the YMCA of Greater New York
For nearly 170 years, the YMCA of Greater New York has been helping all New Yorkers reach their full potential. As New York City's leading nonprofit community service and wellness organization, the Y empowers everyone, no matter who they are or where they're from, by providing access and opportunities for all to learn, grow, and thrive. We provide a place to play, to be healthy, and to give back. We give parents childcare, young adults job training, seniors a way to connect, and children a safe place to go. By bringing people together from different backgrounds, perspectives, and generations, the Y improves overall health and well-being, ignites youth empowerment, and connects and supports diverse communities across New York City.  Follow us on Facebook, Twitter, and Instagram at @ymcanyc.