YMCA of Greater New York Hosts Events to Drive Voter Registration
24 September 2019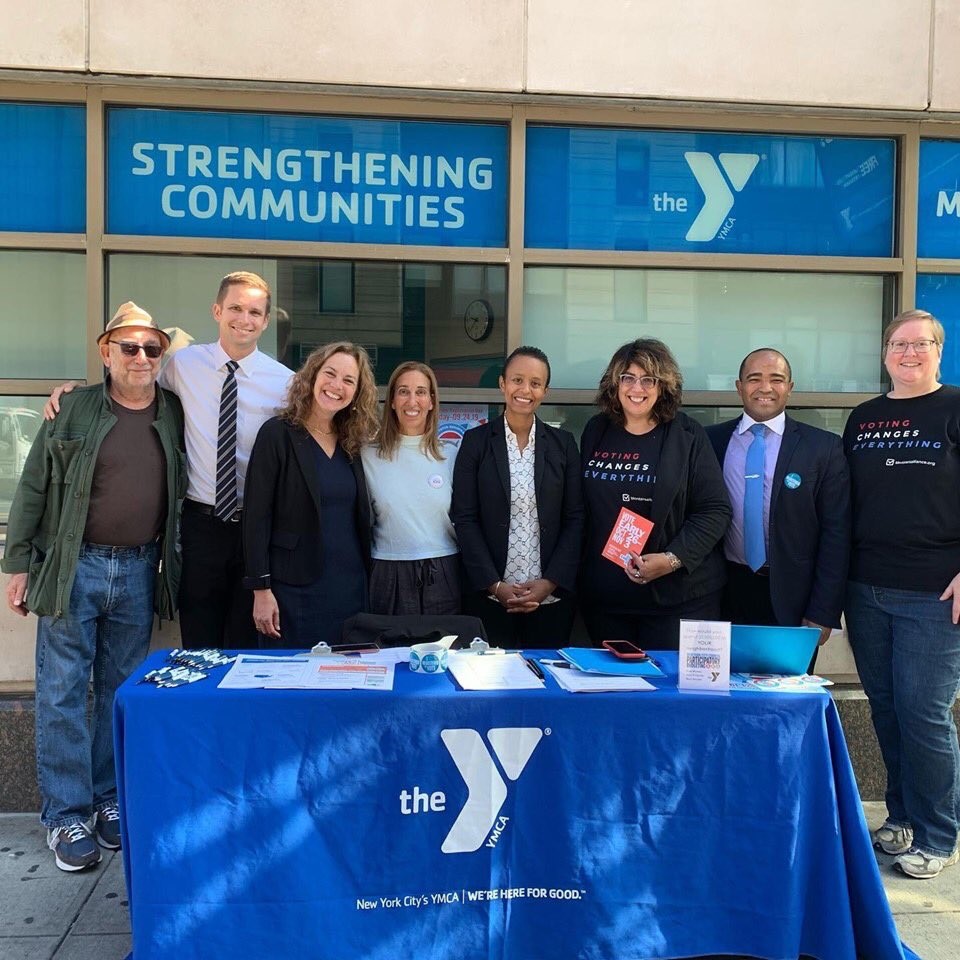 September 24, 2019, New York, NY – Elected officials, representatives from the YMCA of Greater New York, Brooklyn Voters Alliance, DemocracyNYC, NALEO Educational Fund, and the League of Women Voters gathered on Tuesday morning for a press event at the McBurney YMCA in order to highlight voter eligibility, voter registration, and civic responsibility. 

The press conference in honor of National Voter Registration Day was attended by YMCA president and CEO Sharon Greenberger; Chief Democracy Officer Ayirini Fonseca-Sabune; State Senator Brad Hoylman; and Erik Bottcher, Chief of Staff to Speaker of the New York City Council Corey Johnson. 

"Voting is an important right and civic duty, but too many of our fellow citizens do not exercise this right," said Greenberger. "The YMCA of Greater New York is honored to do its part in educating and empowering the public on this issue and helping New Yorkers to make sure their voices are heard." 

The event was one of several, free Voter Registration Day events hosted by the YMCA of Greater New York at more than 20 sites across the city. 

"Our democracy relies on New Yorkers making their voices heard at the ballot box - yet according to the New York City Campaign Finance Board, about 780,000 eligible New Yorkers did not register to vote in time for last November's midterm elections. This year, registering to vote is easier than ever thanks to the historic reforms led by Senate Majority Leader Andrea Stewart-Cousins, Senator Zellnor Myrie, Governor Cuomo, and my colleagues in the State Legislature. I'm grateful to our partners at the YMCA for organizing this voter registration drive, which I am confident will help thousands of New Yorkers exercise their democratic duty," said State Senator Brad Hoylman. 

"It's critical that New Yorkers are able to register to vote in easily accessible locations and, better yet, in their own neighborhoods. That's why we're proud to partner with the YMCA of Greater New York on National Voter Registration Day," said Chief Democracy Officer Ayirini Fonseca-Sabune. "And for the first time in New York's history, early voting begins on October 26 and will be available for nine days before Election Day. Register today and vote early!"

"We've worked hard to change some of New York's archaic laws about registering and voting, and we have more to do," said Assembly Member Richard N. Gottfried.  "We need everybody registered and voting to give our community a stronger voice."

"Voting can change everything and the first step to making sure your voice is heard is registering to vote," said Jan Combopiano, Executive Committee Member of Brooklyn Voters Alliance. "Brooklyn Voters Alliance is proud to partner with the Y again this year for National Voter Registration Day to register eligible voters in Brooklyn and to talk with all voters about New York's first-ever Early Voting period, which will last from October 26 through November 3 this year." 

"I'm so pleased to assist members of the Y who wish to register to vote," said Susie Gomes, co-chair of the Voter & Information Services Committee of the League of Women Voters of New York City. "An engaged society is a fundamental part of our democracy. I look forward to meeting the Y members and helping them on the September 24th so they'll be ready to vote on Election Day November 5th and every year after."

"The Chinese Progressive Association (CPA) is pleased to join with the YMCA for National Voter Registration Day.  This Tuesday, CPA will be registering voters at the Chinatown YMCA.  This November, voters will be able to vote on proposals for changes that will have a tremendous impact on how we vote for elected officials and on how government works for residents of Chinatown and the Lower East Side. So, in addition to registering new voters, we will be making sure voters are aware of the five ballot initiatives they may vote on in November" said Mae Lee, Executive Director of the Chinese Progressive Association.

"More than 13 million eligible Latinos are unable to vote simply because they are not registered," said Juan Rosa, Northeast Director of Civic Engagement for NALEO Educational Fund.  "NALEO Educational Fund is dedicated to addressing this issue in the City of New York and nationwide.  We can and must do better because we know when our community votes, our nation's political candidates and parties pay more attention to the issues that matter to us.  We are proud to stand side-by-side with the YMCA of Greater New York and other groups who are working to increase political participation by making it easier for Latinos and all New York City residents to register to vote or update their voter registration status in advance of Election 2020."

Nikki Tillman Lofton, chapter president of Alpha Kappa Alpha Sorority's Pi Kappa Omega Chapter, said: "Exercising the right to vote is at the root of civic engagement. For 111 years, Alpha Kappa Alpha women have been working on voter rights and protections, and Pi Kappa Omega is dedicated to register voters and galvanize the community to vote. Our partnership with the YMCA of Greater New York is invaluable in doing this work."    
"The Marlene Meyerson JCC is committed to providing people with the skills, knowledge, and expertise needed to create a better fairer word. We are proud that our Engage Jewish Service Corps volunteers helped to register voters and provided advice at two YMCAs yesterday. As a result, more New Yorkers will be able to exercise their civic responsibility this November," said Sheryl Parker, Director of the Joseph Stern Center for Social Responsibility at the Marlene Meyerson JCC Manhattan. 

The YMCA of Greater New York and its partners organize National Voter Registration Day events each year in order to help increase voter registration. For more information, please visit https://ymcanyc.org/events/national-voter-registration-day.

About New York City's YMCA
New York City's YMCA is here for all New Yorkers — to empower youth, improve health, and strengthen community. Founded in 1852, today the Y serves a diverse population of more than half a million New Yorkers who learn, grow, and thrive through programs and services at our 24 branches. Community is the cornerstone of the Y. Together, we connect active, engaged New Yorkers to build stronger communities. Follow us on Facebook, Twitter, and Instagram at @ymcanyc.