YMCA of Greater New York Launches Latest New Americans Welcome Center
17 September 2019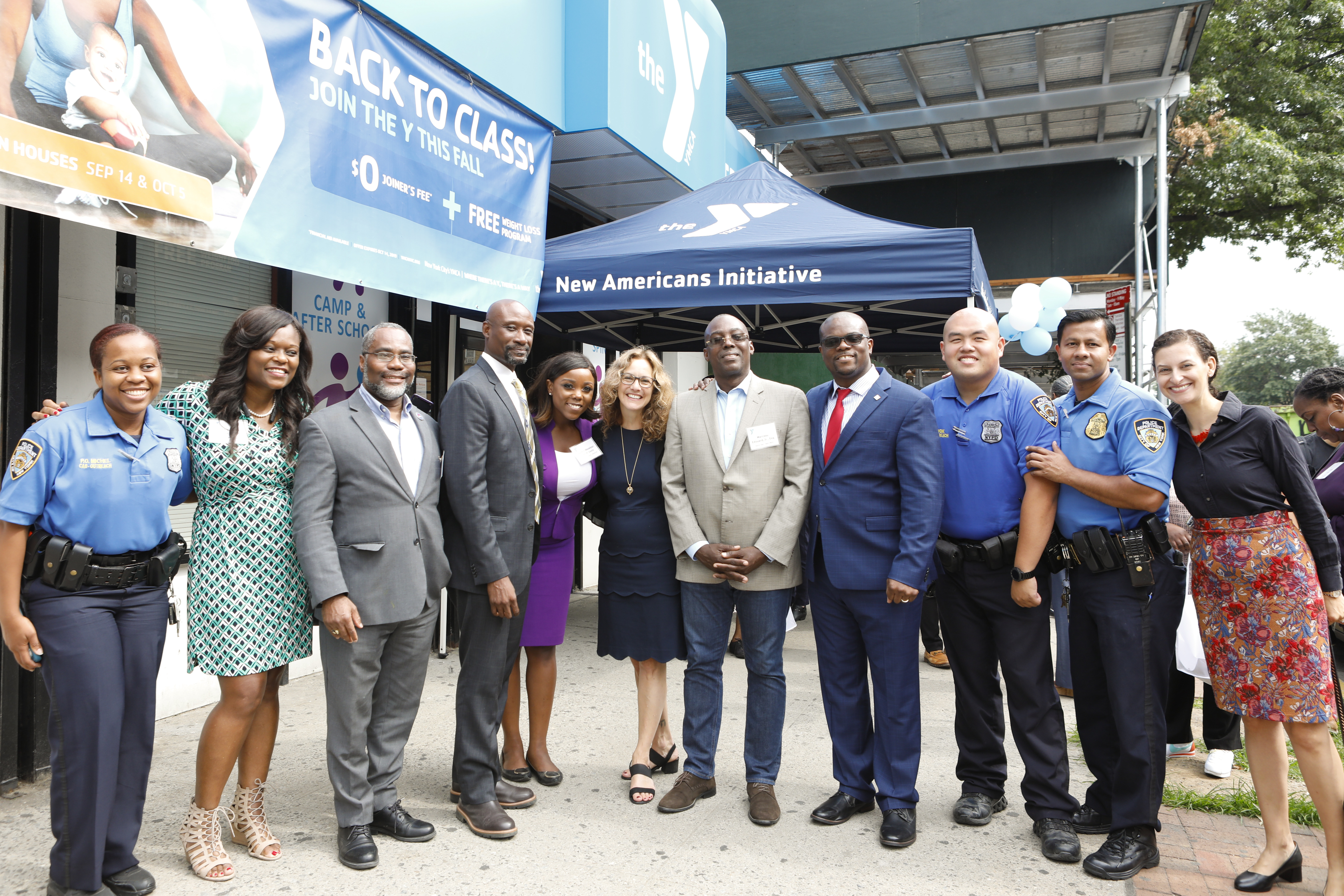 New York, NY, September 16, 2019 – The YMCA of Greater New York officially opened its latest New Americans Welcome Center during a ribbon-cutting ceremony at the Flatbush YMCA branch. 
The Center is the organization's seventh in the city. It is part of the YMCA of Greater New York's New Americans Initiative, a citywide initiative that provides a safe haven to immigrants and newcomers seeking support and services. 
The ceremony was attended by YMCA president and CEO Sharon Greenberger, Commissioner of the Mayor's Office on Immigrant Affairs Bitta Mostofi, Congresswoman Yvette Clarke, Councilwoman Farah Louis, Assemblymember Rodneyse Bichotte and others.  Attendees also heard from program participant who shared her success by receiving services through the New Americans Initiative. 
"The Y has long been committed to serving New York City's immigrant population and believes immigrants and their families are a vital part of our community," said Greenberger. "Through our New Americans Welcome Centers, we can ensure our communities are places where immigrants can thrive."
The Flatbush New Americans Welcome Center will offer a variety of services, including English classes, employment support, cultural integration, computer literacy, citizenship preparation and ancillary support services in order to help immigrants reach their goals and integrate into American society, while contributing their skills and values to New York City communities.
"It brings great joy to see the continued support, forward thinking, and commitment from the YMCA for our diverse immigrant community in Flatbush, Brooklyn" says Assemblymember Rodneyse Bichotte. "The selection of Flatbush YMCA as a New American Welcome Center will bring services geared towards improving our multilingual community and making services more accessible to those that need it. This center will help push our community towards a better today and even greater tomorrow."
"Every intersection in the 45th Council District is a representation of our cultural diversity and the undeniable impact of immigrants as the lifeblood of our community. Every person deserves a place where they can feel welcome, safe, and comfortable finding resources – regardless of their language or culture. The launch of a New Americans Welcome Center in the heart of Brooklyn is a great addition to Flatbush Avenue, one of several corridors where immigrants live and thrive. I am proud that my community can now serve as a gateway to critical resources for our city's growing immigrant population," said Council Member Farah N. Louis.
Each year, the New Americans Initiative supports more than 5,000 immigrants and their families. The YMCA of Greater New York has a long history of welcoming immigrants to the city, beginning with its settlement projects on Ellis Island in 1909 to the present.
"Congratulations to the Y on the opening of the New Americans Welcome Center in Flatbush," said Bitta Mostofi, Commissioner of the Mayor's Office of Immigrant Affairs. "The New Americans Initiative has long been integral to the success of immigrant New Yorkers. I am thrilled that the diverse community of Flatbush will now have access to the Center's crucial support services. And to all of our City's immigrant residents and recent arrivals: the City welcomes you."
For more information on the New Americans Initiative, please visit https://ymcanyc.org/programs/community/new-americans-initiative. 
About New York City's YMCA
New York City's YMCA is here for all New Yorkers — to empower youth, improve health, and strengthen community. Founded in 1852, today the Y serves a diverse population of more than half a million New Yorkers who learn, grow, and thrive through programs and services at our 24 branches. Community is the cornerstone of the Y. Together, we connect active, engaged New Yorkers to build stronger communities. Follow us on Facebook, Twitter, and Instagram at @ymcanyc.
###