The YMCA of Greater New York Partners with NYC °CoolRoofs to Further Reduce Carbon Impact
12 September 2019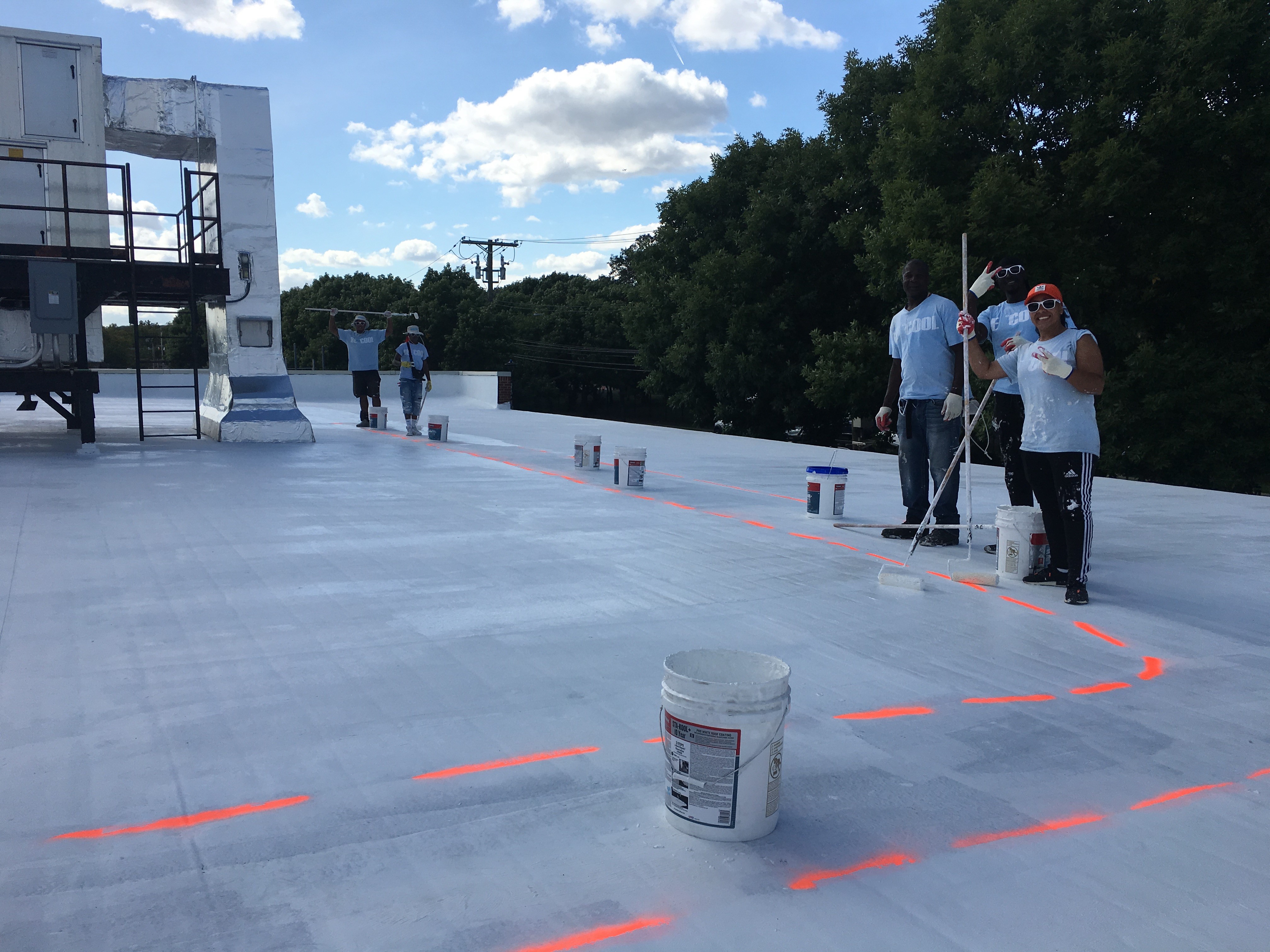 New York, New York, September 12, 2019 — The YMCA of Greater New York partnered with NYC °CoolRoofs, a collaboration between the NYC Department of Buildings and NYC Department of Small Business Services, to reduce cooling costs and carbon emissions at two of its branches. 
To celebrate the YMCA's annual Properties Service Day on September 12 and 13, volunteers from the YMCA and NYC °CoolRoofs worked together to apply a white, reflective coating to the roofs of the YMCA's North Brooklyn and Cross Island branches, ultimately installing the coating over nearly three-quarters of an acre of roof space. 
"Environmental sustainability is critical to the future of our city and the YMCA of Greater New York is committed to doing all we can to strengthen our community," said Sharon Greenberger, president and CEO of the YMCA of Greater New York. "Through this public/private partnership, we can do our part and increase awareness about environmental sustainability."
NYC °CoolRoofs have been shown to reduce carbon emissions by a rate of 0.5 lbs per square foot of rooftop, as well as to reduce internal building temperatures up to 30 percent, which results in a decrease in air conditioning costs. On hot summer days cooling costs typically account for about 40 percent of electricity use. The reflective coating also helps to lengthen the life of a building's cooling equipment, by reducing thermal shock stress. 
"We commend the YMCA of Greater New York for installing °CoolRoofs in the North Brooklyn and Cross Island communities, and supporting our workforce," Gregg Bishop, Commissioner of the NYC Department of Small Business Services. "Not only is the Y taking an important step toward creating a greener future for the city, but they are also helping to advance the careers of City residents." 
The NYC °CoolRoofs installation is part of the YMCA of Greater New York's robust carbon mitigation plan, which it developed in partnership with its energy adviser Gotham 360. The plan includes several measures to reduce energy use at the YMCA's facilities, including a LED lighting upgrade across all 22 branches that is expected to save 3 million kilowatt-hours of electricity annually. 
Jennifer Kearney, Executive Partner and Founder of Gotham 360, said, "The installation demonstrates once again the YMCA's firm commitment to an innovative approach to achieving greenhouse gas reductions. The Y is on its way to becoming a leader in this space."
About YMCA of Greater New York
New York City's YMCA is here for all New Yorkers — to empower youth, improve health, and strengthen community. Founded in 1852, today the Y serves a diverse population of more than half a million New Yorkers who learn, grow, and thrive through programs and services at our 22 branches. Community is the cornerstone of the Y. Together, we connect active, engaged New Yorkers to build stronger communities. Follow us on Facebook, Twitter, and Instagram at @ymcanyc.
About NYC °CoolRoofs
NYC °CoolRoofs treats roofs with a specialized coating material that allows the roofs to reflect sunlight which, in turn, reduces heat absorption. This leads to an overall cooler building during the summer months. Installations are provided at no-cost to nonprofits, affordable housing, select cooperatively-owned housing, and select organizations providing public, cultural, or community services. Privately-owned buildings can receive installations at minimal cost. By installing a cool roof, buildings can gain the following:
10% to 30% lower air conditioning costs;
Up to 30% lower temperatures inside buildings during the summer
Increased longevity of roof and building cooling equipment.
The initiative provides opportunity for jobseeking New Yorkers to gain experience. Through the ten-week initiative, participants will receive training, 300 hours of paid work experience, and the opportunity to obtain industry-relevant certifications, including the Occupational Safety and Health Administration 30-hour (OSHA 30) safety certification. Successful graduates will be connected to employment opportunities once they complete the program.
To apply or for more information on NYC °CoolRoofs, visit nyc.gov/coolroofs

About Gotham 360
Gotham 360 is a national energy management consultancy headquartered in New York City. The company deploys innovative, cost-efficient, programmatic solutions that reduce energy consumption and costs, maximize operational efficiency, and help organizations navigate the complexities of deregulated energy markets. Gotham 360 understands the complex relationship between the way organizations procure energy, reduce energy consumption, and maintain good stewardship of the environment while operating a reliable and resilient business. www.gotham360.com
###