The YMCA of Greater New York Joins Welcoming America in Celebrating New Americans During Welcoming Week
12 September 2019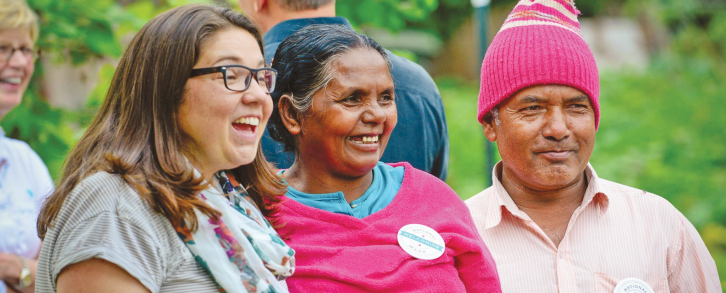 New York, New York, September 11, 2019  — This Welcoming Week, taking place September 13-22, the YMCA of Greater New York's New Americans Initiative will join Welcoming America and hundreds of YMCAs and other organizations nationwide in hosting events to celebrate immigrants' contributions to communities and bring together all residents in a spirit of unity. Welcoming Week activities are open to the public and include a mid-Autumn festival at the Chinatown Y and a food and cultural evening at the Harlem Y.  

"At the YMCA of Greater New York, we believe all communities are stronger when everyone feels welcome and we can all work together for the common good," said Rachael Rinaldo, Senior Director of the New Americans Initiative. "Welcoming Week is an opportunity for neighbors—both immigrants and U.S.-born—to connect, find common ground and celebrate our shared values. We are proud to be a part of Welcoming Week, which demonstrates that in places large and small, rural and urban, people of all backgrounds are coming together to create stronger communities."
During Welcoming Week, the YMCA of Greater New York's New Americans Initiative will host several events across New York City, all of which are free and open to the public. They include: 
Friday, September 13th 9:30am-12:30pm    
Celebrate the Chinese Culture through Lantern Making, Tea & Moon Cake Tasting and other engaging Activities!    
Chinatown YMCA 
273 Bowery, New York, New York    
Tuesday, September 17th 10:30am-2:00pm    
Celebrate National Constitution Day! Learn about Census 2020
Play a game of Jeopardy or sit back and listen to perspectives through poetry!    
Queens Library, Adult Learning Center
41-17 Main Street Flushing, New York    
 
Wednesday, September 18th 1:00pm-3:30pm    
Join us as we explore and discuss: Fievel, an AmericanTale and use this popular animated film to focus on immigration. This is an opportunity for the community to explore issues
such as friendship, discrimination and personal and cultural differences among people.
Stapleton Public Library 
132 Canal Street 
Staten Island, New York 10304
Thursday, September 19th 6:00pm-8:00pm
Meet some of our wonderful members from all over the world and sample
foods from West Africa, Yemen, the Dominican Republic and more! Learn more about the many cultures that reside in Harlem and celebrate the diversity of this vibrant neighborhood!
Harlem YMCA
180 West 135th Street New York, New York 10030
Saturday, September 21st 9:00am-4:00pm    
CUNY Citizenship Now! Application Assistance Event! 
Supporting community members as they seek to become naturalized citizens! **    
**PRE-REGISTRATION REQUIRED** 
Saturday, September 21st 3:30pm-6:30pm    
Celebrating Culture through the Arts    
Prospect Park YMCA 
357 9th Street Brooklyn, New York

"These events are part of a powerful and growing movement in our country and around the world, demonstrating that communities want to be welcoming," said Rachel Peric, Executive Director of Welcoming America. "Welcoming Week is a reminder of the resilient and inclusive spirit of American communities. Thousands of local leaders nationwide are bringing their communities together to bridge divides and build stronger local economies where everyone belongs."   
 
###

About the YMCA of Greater New York
About New York City's YMCA New York City's YMCA is here for all New Yorkers — to empower youth, improve health, and strengthen community. Founded in 1852, today the Y serves a diverse population of more than half a million New Yorkers who learn, grow, and thrive through programs and services at our 24 branches. Community is the cornerstone of the Y. Together, we connect active, engaged New Yorkers to build stronger communities. Follow us on Facebook, Twitter, and Instagram at @ymcanyc. 
About the Y
The Y is one of the nation's leading nonprofits strengthening communities through youth development, healthy living and social responsibility. Across the U.S., 2,700 Ys engage 22 million men, women and children – regardless of age, income or background – to nurture the potential of children and teens, improve the nation's health and well-being, and provide opportunities to give back and support neighbors. Anchored in more than 10,000 communities, the Y has the long-standing relationships and physical presence not just to promise, but to deliver, lasting personal and social change. ymca.net
About Welcoming Week
Welcoming Week, founded by Welcoming America, is an annual celebration bringing together thousands of people and hundreds of local events that celebrate the contributions of immigrants and refugees and the role communities play to foster greater welcome. Welcoming Week is Sept. 13-22 across the country and now expanding to other parts of the world. 
Welcoming America is leading a movement of inclusive communities becoming more prosperous by making everyone who lives there feel like they belong. Welcoming America believes that all people, including immigrants, are valued contributors and vital to the success of both our communities and our shared future. www.welcomingamerica.org.