Mayor de Blasio, Speaker Heastie Announce State-of-the-Art Recreational Facility Coming to Edenwald
31 August 2016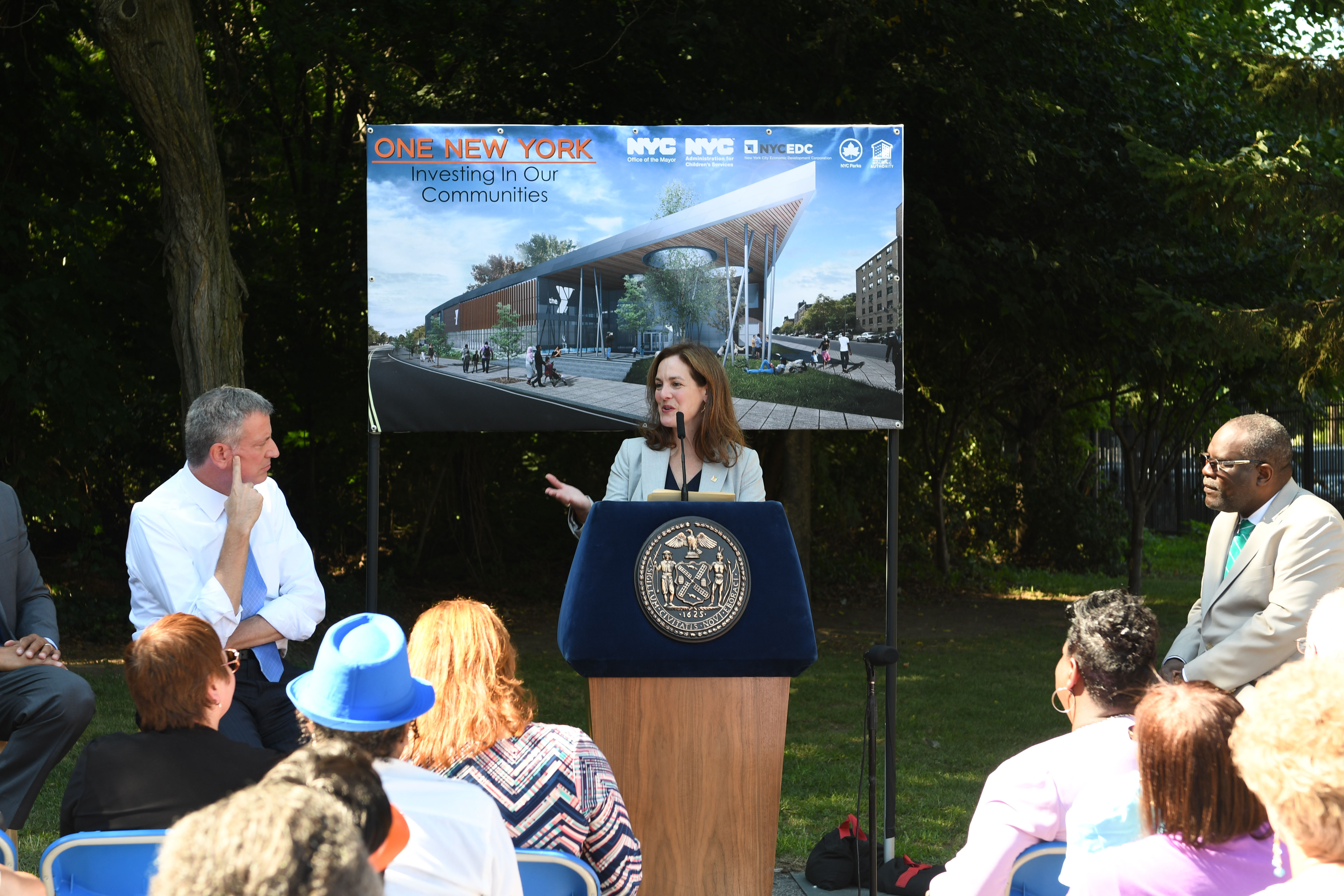 NEW YORK, NY /NYC/—Mayor Bill de Blasio, Assembly Speaker Carl Heastie, New York City Economic Development Corporation (NYCEDC) President Maria Torres-Springer and local elected officials announced the selection of the YMCA of Greater New York to construct a state-of-the-art recreational facility in the Edenwald neighborhood of the Bronx.
"For years people in this community have been calling for a place they can bring their families to get healthy and have fun," said Mayor Bill de Blasio. "Today your calls have been heard and they have been answered. This 50,000 square foot YMCA will serve thousands of Bronx residents, including many families living in NYCHA. It will also create one hundred good paying jobs. I want to thank Speaker Heastie and so many community leaders for helping make this recreational facility a reality."
"This new YMCA community center will touch the lives of thousands of families in the Bronx and help create a stronger and safer community for everyone. For decades, developing this type of community center has been a dream of mine that I and others have pursued tirelessly. Seeing it become a reality means so much because I know what a difference it will make to our neighborhoods and our families. I am especially thankful to Mayor de Blasio, Borough President Diaz Jr, Councilman King and all our community leaders for coming together to make this project a reality after so many years. This center will offer a fun and safe environment for our kids to grow and learn and create new jobs that pay fair and living wages. This is an investment in the future of the Bronx – a sustainable and meaningful investment in our youth that will empower them and instill a sense of pride in our community," said Assembly Speaker Carl Heastie.
Built alongside NYCHA's Edenwald Houses, the new recreational facility will provide thousands of low-income families with a state-of-the-art community hub, including two swimming pools, a full length basketball court, gym facilities, an indoor track, a wellness center, a childcare facility and multi-purpose rooms. The project has been pursued by Assembly Speaker Heastie and Bronx officials for decades, and is finally poised to move forward.
The facility will also feature a full suite of YMCA programming for all ages, including:
After school educational programs
Youth day camps and holiday camps during school breaks
A teen center
Swimming lessons for all ages and skill levels
Diabetes prevention programs
Family programs that encourage parental participation in recreation and health
Personal training and group exercise classes, such as aerobics, step classes yoga, Zumba, spin, yoga and martial arts
Senior adult programs, including health and wellness programming, arthritis water exercise and social activities
Civics classes and other programs for new Americans
The Edenwald YMCA will create 101 new construction jobs, as well as 100 new permanent jobs that pay a living wage. As part of the Administration's efforts to expand economic opportunities for people in the Bronx, the YMCA has also committed to a 35 percent minority- and women-owned business enterprises (MWBE) contracting goal for design and construction, and will engage in local hiring efforts through NYCEDC's HireNYC program.
The project will also include 200 new parking spaces.
Construction on the Edenwald recreational facility is expected to begin in fall 2018 and be completed in early 2020.
"This new recreational facility will help make the Edenwald community even stronger, giving New Yorkers of all ages the chance to exercise and spend time with friends and neighbors," said New York City Economic Development Corporation President Maria Torres-Springer. "NYCEDC is proud to be working with Speaker Heastie, Borough President Diaz, Council Member King, State Senator Hassell-Thompson, the YMCA, and so many other community leaders to make this longtime dream a reality for the people of the Bronx."
"The YMCA is dedicated to building a stronger, healthier and more connected New York City by creating centers of community that support personal achievement and a sense of belonging," said Sharon Greenberger, President and CEO of the YMCA of Greater New York. "We look forward to working hand in hand with the Edenwald community to develop a new state-of-the-art YMCA."
The YMCA is also committed to ensuring that membership is accessible to families at all income levels. YMCA membership dues vary by location and are determined by the economics of the area. Membership and program fees are made affordable to residents at different income levels through YMCA's Financial Assistance Program, and no one is turned away because of inability to pay.
Located at 1250 East 229th Street, the recreational facility will sit on the eastern portion of the larger Edenwald site, which is under the jurisdiction of the New York City Administration for Children's Services and currently includes the Christopher School and two cottages for children with special needs. The site is in close proximity to several NYCHA developments, including Edenwald Houses, the largest NYCHA development in the Bronx, as well as the Edenwald Community Center, neighborhood playgrounds and Seton Falls Park, a 30-acre preserved natural wetland. The new facility is also close to multiple public transit options and the Boston Road commercial corridor in the immediate vicinity.
The Edenwald YMCA will help address the significant need for recreational space in the North Bronx. Bronx Community District 12, which includes Edenwald, has approximately 3.1 acres of parks and playgrounds per 1,000 children, far below the citywide average of 13.3 acres. The recreational facility is expected to serve over 25,000 New Yorkers by year four of operations.
By providing much needed recreation space and amenities to residents, the Edenwald community facility will help meet Mayor de Blasio's goal of creating environments that encourage New Yorkers to be more active by increasing opportunities for physical activity and recreation, as laid out in One New York: The Plan for a Strong and Just City(OneNYC). OneNYC is a comprehensive plan that establishes bold goals and specific targets for a strong, sustainable, resilient and equitable city for all New Yorkers by addressing profound social, economic and environmental challenges.
"This state-of-the-art recreational facility will allow countless families in the Bronx to enjoy all the wonderful programs and activities the YMCA has to offer," said ACS Commissioner Gladys Carrión. "I am thrilled that ACS was able to make this property available so that this exciting and important community hub could be created. We are grateful to Mayor Bill de Blasio, Assembly Speaker Carl Heastie and the community leaders for continuing to put families first."
"This new state-of-the-art facility will benefit thousands of families from nearby NYCHA developments connecting them to quality programs and activities all year round," said NYCHA Chair and CEO Shola Olatoye. "Thanks to the support of Mayor de Blasio, Assembly Speaker Heastie and the YMCA of Greater New York, we are helping create safe, clean and connected communities for our residents."
"Providing the northeast Bronx with a high quality recreation center has been a priority of my administration since the day I became borough president, and today's announcement is a true victory for this community and the entire Bronx. In partnership with my good friend, Assembly Speaker Carl Heastie, we will create a tremendous new amenity on this property that will offer the community an amazing new resource. The YMCA is an amazing organization, and I am proud to provide this project with $1 million in capital funding in this year's budget," said Bronx Borough President Ruben Diaz Jr.
"This project fills a real need in the community, especially for our youth and senior populations," said Congressman Eliot Engel. "My fellow elected officials and I have been advocating for a project like this for years – one that would bring a brand new, state of the art community center, complete with a multitude of communal based programming, into the neighborhood. The YMCA has always provided our children with a safe afterschool environment to enjoy and enrich themselves, so this development is a perfect fit for us here in the Bronx. I want to personally thank Speaker Heastie for all of his incredible work in bringing this project to life, in addition to all those who have worked with us over the years to see this victory through. It goes to show that when our elected officials and community stakeholders come together, we can accomplish extraordinary things."
"Community centers such as the YMCA are invaluable resources in any community," said Assembly Member Jeff Dinowitz. "Providing a space for everyone from children to seniors to engage in safe and fun recreational activities is critical for the health and well-being of the neighborhoods of the North Bronx. I applaud Speaker Heastie, Mayor de Blasio, Bronx Borough President Diaz Jr., and Council Member King for their continued leadership in funding projects such as this."
"The Northeast Bronx has needed a signature community center since I was a youngster, and I join my neighbors in praise for all those individuals and entities that came together to make this project a reality," said Council Member Andy King. "I want to give a special thanks to my neighbor Speaker Carl Heastie whose vision and leadership made a difference in pushing this project forward. This $48 million facility will facilitate a wide range of health and fitness uses from basketball tournaments to exercise classes for seniors and family health programs. Over the course of many conversations for decades, I have seen this dream become a reality as all the pieces went into place. In the YMCA of Greater New York, we have found a committed and trusted partner known for best practices in the field, and I join my colleagues in thanks for Sharon Greenberg and her leadership."
Bronx County District Leader Shirley Fearon said, "We are excited to welcome this new YMCA center to the Edenwald community. Having access to well-rounded, affordable recreation options is an important part of helping our children and families to live happier and healthier lives. This is sure to become a favorite destination for all to enjoy. I want to thank Mayor de Blasio and Speaker Carl Heastie for their commitment to making this city the best home possible for all our families."
"It's a great day for the Northeast Bronx," said Bronx County District Community Leader Al de Castro.