NYC's YMCA Awarded $250,000 Donation From AT&T At Yankee Stadium For College-Readiness Program
13 June 2016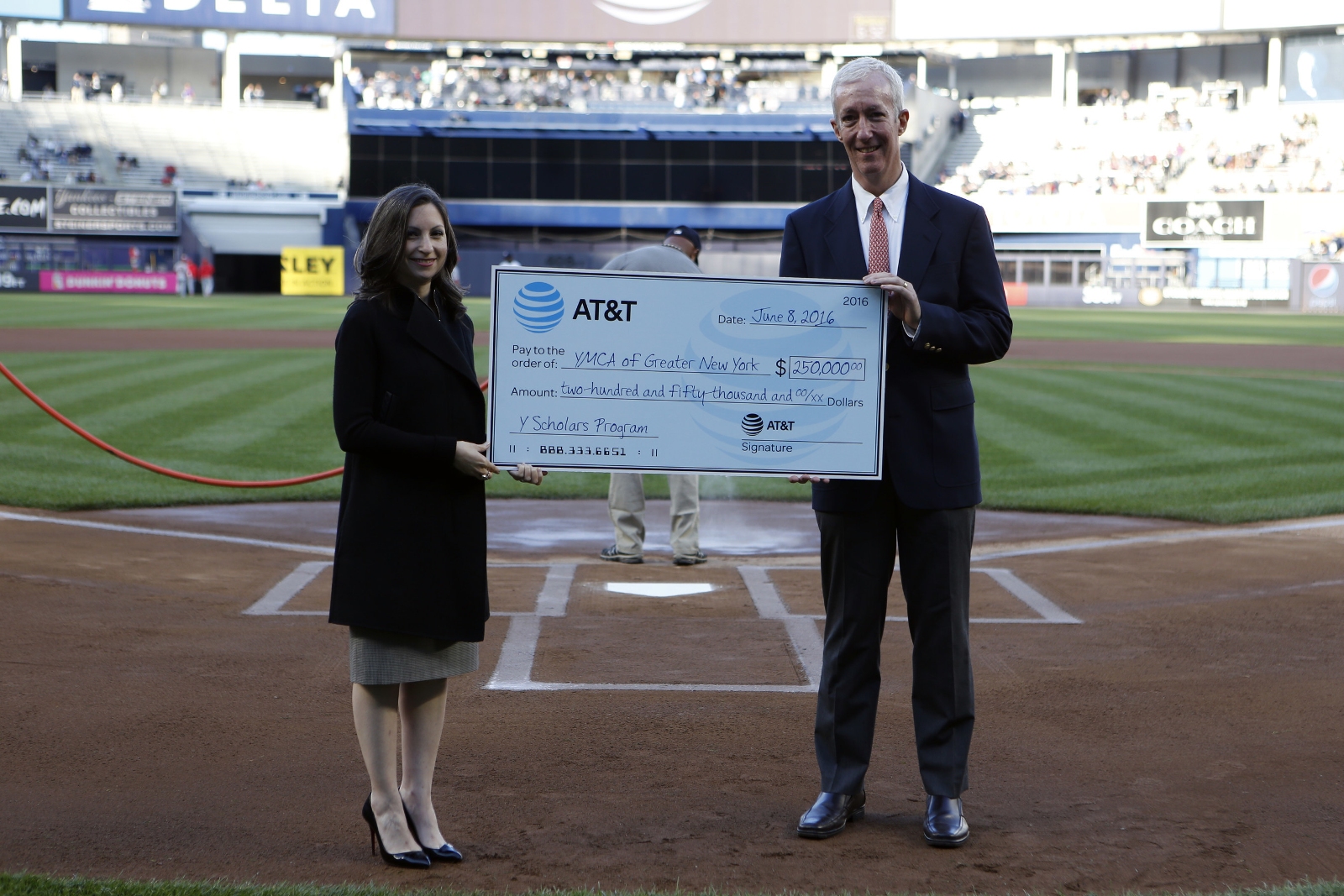 NEW YORK, June 13, 2016 /PRNewswire/ -- New York City's YMCA joined AT&T on Thursday, June 9, at Yankee Stadium in the Bronx for a home plate ceremony to announce a $250,000 contribution from AT&T in support of its Y Scholars program. Y Scholars is a college access and success initiative that provides comprehensive college readiness services to disadvantaged students in New York City. The program equips high school students with individualized academic planning and support as well as helps with admission exams (SAT/ACT) preparation, college application guidance and campus tours.
"At the Y, we believe that all young people should have the tools and support they need to reach their full potential," said Sharon Greenberger, President & CEO of New York City's YMCA. "Because of the generous support from AT&T, our Y Scholars program can help even more children take a bigger step toward a brighter future. It's a home run for New York City!"
The YMCA of Greater New York is one of 18 recipients nationwide that will share in $10 million from AT&T through the Aspire Connect to Success Competition. Hundreds of organizations applied to the competition and winners were selected based on their effectiveness in helping students graduate ready for career or college.
"In today's rapidly changing and competitive job market, a college education has become increasingly essential for long-term career success," said Marissa Shorenstein, New York State President, AT&T. "We are always looking for opportunities to foster young talent, and are proud to support the Y Scholars and provide students with the preparation and support they need to succeed in the future."
AT&T's support of Y Scholars is a part of AT&T Aspire, a broad education initiative that has invested over $250 million nationwide in education since 2008. This is the third round of support from AT&T for the Y Scholars program. This year's support is for the Thurgood Marshall Academy in Harlem to expand the program by 160 students over the next two years. Y Scholars students participate in college-readiness, life-skills readiness and mentoring programs, committing to at least 120 program hours per school year and to additional program activities during the summer. The Y Scholars program has seen tremendous success:
96% of Y Scholars High School Seniors have graduated on-time
95% of Y Scholars High School Graduates are entering college in the fall
72% of Y Scholars are potential first generation college students
45% of Y Scholars are first generation Americans

About the New York City's YMCA
New York City's YMCA is here for all New Yorkers — to empower youth, improve health, and strengthen community. Founded in 1852, today the Y serves a diverse population of more than half a million New Yorkers who learn, grow, and thrive through programs and services at our 24 branches. Community is the cornerstone of the Y. Together, we connect active, engaged New Yorkers to build stronger communities. Follow us on Facebook, Twitter, and Instagram at @ymcanyc.
About AT&T
AT&T Inc. (NYSE: T) helps millions around the globe connect with leading entertainment, mobile, high speed Internet and voice services. We're the world's largest provider of pay TV. We have TV customers in the U.S. and 11 Latin American countries. We offer the best global coverage of any U.S. wireless provider*. And we help businesses worldwide serve their customers better with our mobility and highly secure cloud solutions.
Additional information about AT&T products and services is available at http://about.att.com. Follow our news on Twitter at @ATT, on Facebook at http://www.facebook.com/att and YouTube at http://www.youtube.com/att.
© 2016 AT&T Intellectual Property. All rights reserved. AT&T, the Globe logo and other marks are trademarks and service marks of AT&T Intellectual Property and/or AT&T affiliated companies.
Global coverage claim based on offering discounted voice and data roaming; LTE roaming; voice roaming; and world-capable smartphone and tablets in more countries than any other U.S. based carrier. International service required. Coverage not available in all areas. Coverage may vary per country and be limited/restricted in some countries.
About Philanthropy & Social Innovation at AT&T
AT&T Inc. is committed to advancing education, strengthening communities and improving lives. Through its community initiatives, AT&T has a long history of investing in projects that create learning opportunities; promote academic and economic achievement; or address community needs. AT&T Aspire is AT&T's signature philanthropic initiative that drives innovation in education by bringing diverse resources to bear on the issue including funding, technology, employee volunteerism, and mentoring. Through Aspire, we've passed the $250 million mark on our plan to invest $350 million in education from 2008-2017.