The YMCA of Greater New York Launches Proprietary "Y-MVP" Mobile Fitness App
26 February 2016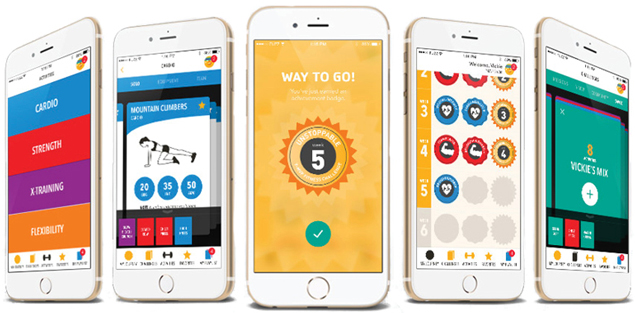 NEW YORK, Feb. 25, 2016 /PRNewswire/ -- The YMCA of Greater New York today announced the launch of the Y-MVP app, the organization's first-ever proprietary mobile fitness app. Available for free in the iTunes store, the Y-MVP app uses dynamic exercise "playlists" and digital badges to make fitness fun for teens, who spend more than 40 hours per week engaged in their screens.
The app is based on the Y's Moderate to Vigorous Physical Activity Teen Fitness Challenge, an innovative eight-week program that helps teens increase their daily levels of exercise. The U.S. Department of Health and Human Services recommends 60 minutes or more of physical activity each day for children and adolescents.
"At New York City's YMCA, we understand that technology is playing an increasingly important role as a tool to help people get and stay motivated to maintain a healthier lifestyle," said Sharon Greenberger, President & CEO of the YMCA of Greater New York. "With the support of many partners, we created Y-MVP to help youth make sustainable fitness choices and adopt healthy habits. The new Y-MVP app is a clear illustration of how New York City's YMCA is always working to build a healthier, stronger and more connected city."
Similar to the in-person program, the YMCA's Y-MVP app engages users in a series of game-like "Challenges" which involve cardio, strength, cross-training and flexibility activities. As users complete and record different fitness "Missions," they earn and accrue digital achievement badges. The app can be used independently of the in-person class to develop custom fitness routines by creating workout "Playlists" from more than 150 different activities.
Y-MVP app users can also challenge themselves by taking on Playlists created by certified NYC YMCA Fitness Coaches, and stay motivated by trying out new Playlists added to the "Community" by other Y-MVP users. Users can train at their own pace, and all of the fitness activities have on-screen instructions and include a variety of intensity and duration levels. Each activity type includes exercises that can be done with an array of equipment, as part of a class or just using one's own bodyweight.
"The Y-MVP app is part of our deep commitment to providing New York City youth with the tools they need to lead healthy and fulfilling lives," said Lori Rose Benson, Vice President of Healthy Lifestyles at the YMCA of Greater New York. "Childhood obesity is a critical issue and we continue to invest in and explore new ways to make exercise fun and approachable for youth and New Yorkers of all ages. By employing the same game mechanics that often keep kids glued to the couch, Y-MVP aims to moves sedentary, first-time teen exercisers along a clear path to setting and achieving personal fitness goals."
In a 2015 evaluation of the Y-MVP program, Dr. Nate McCaughtry, Assistant Dean and Professor at Wayne State University, found that the unique combination of technology and physical activity created an environment for participating teens to succeed. Nearly 90% of participating youth said Y-MVP helped them become more physically active, and Y-MVP was shown to increase participants' vigorous physical activity by 91%.
Notably, 95% of participants said the Y-MVP badges encouraged them to compete against themselves to accomplish more and all participants felt that Y-MVP prepared and motivated them to work out on their own. Research shows that long-term physical activity engagement is much more likely when an individual uses themselves as a reference marker for performance and development versus comparing themselves to others.
The Y-MVP program and app are made possible thanks to the generous support of the following organizations: PepsiCo Foundation, The Hive Digital Media Learning Fund in The New York Community Trust, American Express, Healthfirst, Aetna Foundation and Hyde and Watson Foundation.
About the YMCA of Greater New York
The YMCA of Greater New York is, and always will be, dedicated to building healthy, confident, connected and secure children, adults, families and communities. With a focus on youth development, healthy living and social responsibility, the Y nurtures the potential of every youth and teen, improves New York City's health and well-being and provides opportunities to give back and support neighbors. In scores of neighborhoods across the five boroughs and its camp upstate, the Y makes accessible the support and opportunities that empower 500,000 New Yorkers to learn, grow and thrive. Visit ymcanyc.org. Follow us on Facebook, Twitter, and Instagram at @ymcanyc.