New York City's YMCA Offers Modern Families Tips To Make The Most Of Their Time Together
18 February 2016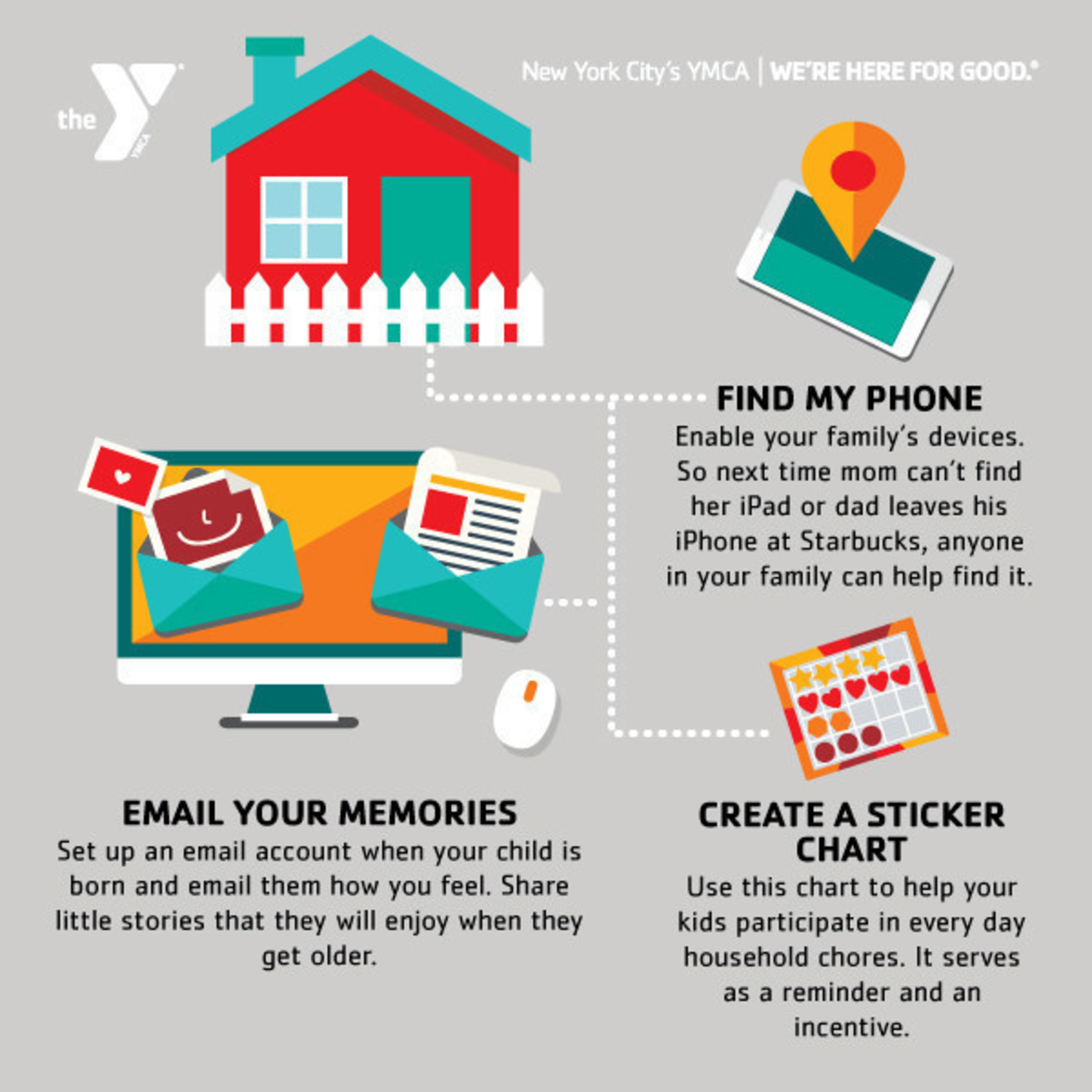 NEW YORK, Feb. 18, 2016 /PRNewswire/ -- A recent Pew Research Center study found that in a household of full-time working parents, 56 percent say that the balancing act between work and family time is difficult.
While it is not always easy, scheduling family time is important – studies show that spending regular quality time together as a family increases family health and well-being, as well as benefits children's healthy development.
The YMCA of Greater New York offers these tips for modern families to make the most of their time together.
Get on the same page – Create an online calendar for the family. This way you'll all get a sense of everyone's activities/plans for the day. It's also an ideal way for your family to collaborate on different projects. 
Make meal time simpler – Start a calendar of what the family wants to cook over the next few days or few weeks with notes on each day for that day's menu.
Enjoy a Date Night – Many YMCA's have affordable and easy parent's night out/kid's night out. Your children can be left in the YMCA's care for a night of fun, games and pizza. While the kids stay entertained, you get to spend quality time with your partner, whether it's going out for a meal or just relaxing together.
Email your memories – Set up an email account when your child is born and email them how you feel when they hit certain milestones (first word, first steps, etc.). Share little stories that you know they will enjoy when they get older.
Exercise and track it – Use fitness trackers to count your family's steps. Make it a fun challenge for the whole family.
All devices should be treated equal – Schedule computer and tablet time between family members. Establish electronic curfews. This will encourage families to do things together and force kids to get creative with their free time.
Find my phone – Enable locator apps or settings on your family devices so the next time mom can't find her iPad or dad leaves his iPhone at Starbucks, anyone in your family can help find it.  
Create a sticker chart – Go old school; use this chart to help your kids participate in every day household chores. A child will be much more excited about tracking completed tasks with cute pictures, cartoons, and other fun stickers than words on a chore chart. It serves as a reminder and an incentive.
What is your family brand? – Create a family brand and identify attributes and characteristics of what you stand for.
Respect alone time and take time for you – Moms and dads often forget about themselves and can become run-down. You should set aside "me time" each month.
About the YMCA of Greater New York 
The YMCA of Greater New York is, and always will be, dedicated to building healthy, confident, connected and secure children, adults, families and communities. With a focus on youth development, healthy living and social responsibility, the Y nurtures the potential of every youth and teen, improves New York City's health and well-being and provides opportunities to give back and support neighbors. In scores of neighborhoods across the five boroughs and its camp upstate, the Y makes accessible the support and opportunities that empower more than 550,000 New Yorkers to learn, grow and thrive. Visit ymcanyc.org. Follow us on Facebook, Twitter, and Instagram at @ymcanyc.