Chinatown YMCA Honors Bill Chong And Healthfirst At 4th Annual Founders' Award Reception
08 December 2015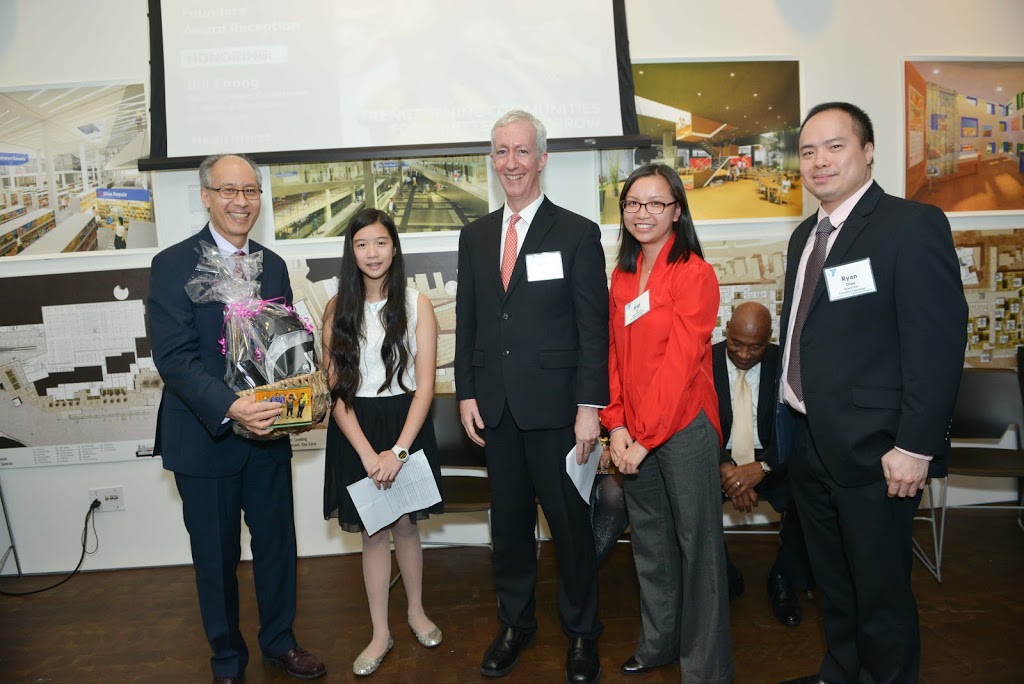 NEW YORK, Dec. 8, 2015 /PRNewswire/ -- The Chinatown YMCA hosted its Annual Founders' Award Reception event on Friday, December 4th at the Museum of Chinese in America. The 4th annual event, made possible thanks to the support of Gold Circle sponsors Nielsen and First American International Bank, recognized those who have made significant contributions to improve the lives of youth and families in Lower Manhattan. The 2015 awardees, Bill Chong, Commissioner of the Department of Youth and Community Development, and Healthfirst, inspired the event theme of "Strengthening Communities for a Better Tomorrow."
"We are proud to have had the opportunity to honor Bill Chong, who has spent more than 25 years serving New Yorkers. In particular, Mr. Chong's dedication to youth development reflects the Chinatown Y's mission to support community youth," said John Rappaport, Senior Executive Director, Chinatown YMCA. "We were equally thrilled to recognize the work of Healthfirst in providing health care opportunities for New Yorkers who may be otherwise unable to afford this necessity."
In 2015 the Chinatown YMCA has served more than 27,000 individuals including 17,000 youth and teens. This translates to more than $2 million in free community programs and services including Swim for Life, Teens Take the City, the New Americans Welcome Center and the Y Diabetes Prevention Program. Given the high needs of the community, in which nearly 30 percent of residents live under the federal poverty line, the Chinatown Y gives out more than $300,000 a year in financial assistance to ensure that no one is turned away for an inability to pay.
This year the Founder's Award reception raised more than $43,000 to ensure that the Chinatown YMCA can continue to provide programs and services to community members at all walks of life.
"My career has come full circle, with my path to public service starting in Chinatown many years ago," said Commissioner Chong. "First, as a teenager in the Summer Youth Employment Program cleaning up an empty lot with the Two Bridges Neighborhood Council, and later as part of Asian Americans for Equality efforts to build housing and improve Chinatown. It is those experiences that have shaped my career and given me invaluable insight as Commissioner. I want to thank the Chinatown YMCA for this honor and for acknowledging the vital work of DYCD."
"We at Healthfirst are honored to have been recognized for our work alongside longtime community advocate Bill Chong," said George Hulse, Vice President of Community Engagement at Healthfirst. "It was a particularly amazing treat to receive this acknowledgement from the Chinatown YMCA, which for decades has supported the communities we serve."
About the Chinatown YMCA
In 1993, the Chinatown YMCA received one of the first grants from the New York City Department of Youth Services to create a "Beacon" center, which currently operates at MS 131 in collaboration with the New York City Department of Youth and Community Development. Beacons are public elementary and intermediate schools that double as community-based organizations after school hours and on the weekends to provide children and adults with a safe and fun environment. Today, there are currently 80 Beacons located throughout New York City. The Beacon Center at MS 131 provides community access to a wide variety of school-based educational, recreational and counseling services and creates a safe haven and nurturing environment for neighborhood youth and adults in lower Manhattan, with an emphasis for the Chinatown and Lower East Side communities.
More recently, the Y responded to an increasing demand in both Chinatown and the Lower East Side for increased healthy lifestyles programming, and launched its new Houston Street Center, located on the Bowery, in 2006. Since it opened, the center has quickly become a neighborhood "hot spot," with state-of-the-art recreational and educational facilities. From swimming and fitness programs to after-school and older adult programs and community events, the Houston Street Center has become a new hub in one of New York's most historic and diverse neighborhoods.