YMCA Teens Take Over City Hall for 10th Annual Teens Take the City Event
05 May 2015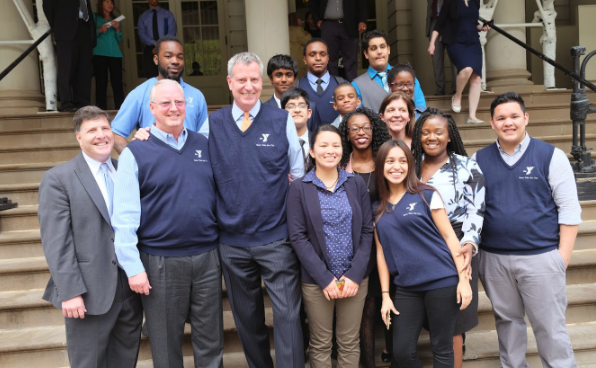 NEW YORK, NY – On Tuesday, May 5th, the YMCA of Greater New York hosted more than 100 teens at New York's City Hall for the tenth annual YMCA Teens Take the City event. Teen Mayor Michael Connelly and the Teen Borough Presidents presided over a mock-legislative session in the City Council Chambers, where participants presented and voted on legislative proposals put forth by their peers.
The event enjoyed support from local politicians: Mayor Bill de Blasio surprised the teens before the session assembled and Council Members Helen Rosenthal and Mark Weprin attended the session to express their appreciation for the teens being active participants in their communities.
Council Member Rosenthal noted, "It is so important to have our young people civically involved, and this event gives the participants an opportunity to engage with their peers about issues and ideas that mean the most to them in a highly constructive manner."
"Getting involved at a young age is very important," said Council Member Weprin. "It's not just about running for office or going out and being a community representative, it's about getting involved in the place you live. It's about getting involved in your community."
The YMCA Teens Take the City initiative is a 20-week, after-school program that offers young people hands-on experience to learn how public policy is shaped on a local level and actively engage in local government. One of the key features of the program is that many participants are nominated by city elected officials, community leaders or by YMCA branch staff and are already recognized as leaders. Through the development program teens have the opportunity to get involved in issues affecting both themselves and their communities. They participate in community mapping exercises to develop proposals, which are then debated amongst other teens at City Hall.
"We launched Teens Take the City ten years ago because we wanted to give young people a voice in their communities and the world," New York City's YMCA CEO Jack Lund explained to the program participants. "We always asked the question 'where will tomorrow's leaders come from?' the answer is you guys – the teens in this room today."
During the 2015 YMCA Teens Take the City session the teen "elected officials" debated and voted on the following bills:
Reduce air pollution caused by commercial air conditioners – PASSED
Increase the 80/20 program so that all new participating luxury building developments must set aside 30% of space for affordable housing for low income New Yorkers – PASSED
Issue Metro Cards to students who participate in extracurricular activities – PASSED
Improve education in homeless shelters – PASSED
Enforce the use of college-level textbooks that are available in digital format in order to make them affordable and accessible to college students – NOT PASSED
Decrease homeless population in NYC – PASSED
Install free public exercise machines in New York's low income communities with high obesity rates such as Jamaica, Melrose and South Bronx – PASSED
For the DOE to reform the current school safety program, necessary to transform NYC schools from a perceived prison/detention centers to a positive, environment conductive to learning where students feel nurtured and engaged. – NOT PASSED
Improve homeless shelters in NYC so that more homeless people could benefit from it – PASSED
Install personal thermostats in NYCHA apartments – PASSED
Ultimately, the youth council voted to pass eight of the ten proposals.

About the YMCA of Greater New York
The YMCA of Greater New York is, and always will be, dedicated to building healthy, confident, connected and secure children, adults, families and communities. With a focus on youth development, healthy living and social responsibility, the Y nurtures the potential of every youth and teen, improves New York City's health and well-being and provides opportunities to give back and support neighbors. In scores of neighborhoods across the five boroughs and its camp upstate, the Y makes accessible the support and opportunities that empower more than 500,000 New Yorkers to learn, grow and thrive. Follow us on Facebook, Twitter, and Instagram at @ymcanyc.